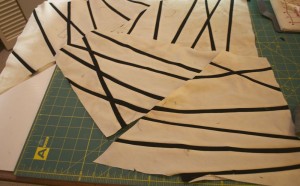 I am doing it. I am piecing these skinny lines. I went round and round with input from EB about what fabric to use for the background of this. I just couldn't make myself comfortable with the commercial fabric. Just not me. EB felt the gray had-dye had too much texture which would fight with the lines. So, after STASH meeting on Thursday, I stopped at the studio and picked up some PFD cotton and ecru and a black procion dye. I carefully mixed dye and tried to get as even a coverage as I could in large plastic bags in my utility room.
The ecru was the winner. The gray which I tried with diluted black was too lavender. I have been able to complete 4 pieces of the puzzle. I sometimes have to unsew and try again, expecially where I have the crossed lines. EB has suggested that I quilt each piece separately and then put them together. I think that is a great idea. This will end up being 24 by 42 so that I can enter it in the High Fiber Diet neutral show, which has specific sizes.
Last Wednesday was our local SAQA meeting. We had a presentation by Paula Benjaminson, a SAQA member who spent many years in Africa. She showed some of her fabrics and quilts made from African fabrics. I loved this dress.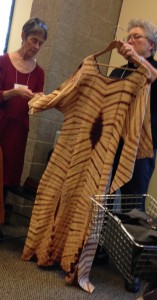 Fabric detail: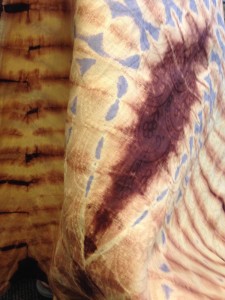 Here is lovely piece of mudcloth.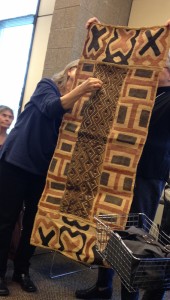 And this printed fabric.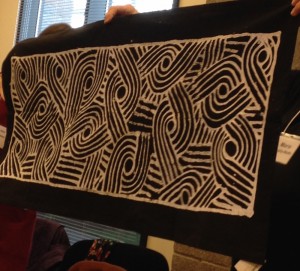 I have been busy with meetings and other things. My knee is getting better.
Oh, the best news is that Jayme got her first choice for her pediatric residency – Stanford Children's hospital. This means they will stay in the Bay area. Mark can keep his job, but they will move out of San Francisco and closer to Palo Alto so that Jayme will not have as much of a commute.
Paige's 3rd birthday party is coming up. She had a party this past week-end. We had to miss it, but her other Grandma sent me some photos. Here she is chomping on a cupcake!