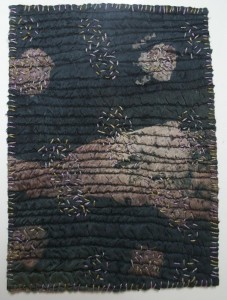 I finished the hand stitching on this piece for the SAQA 2014 trunk show. The edges needed to be finished so I fused it to a piece of black felt and did a simple hand stitched edge with the same perle cotton. I have named it Tranquility because it has given me some peace to work on  it during a turbulent time.
Here is a detail.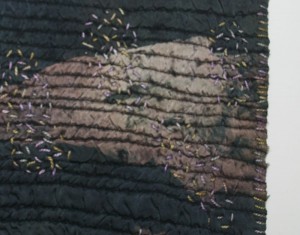 Most days, we have someone here poking around the house as the buyers decide what to ask for as a result of the inspection. It is mostly minor stuff. And we are happy to have the radon test come back negative.
We did not get the townhouse we made an offer on. It sat on the market for a couple of months. I think the price was dropped a couple of times. We thought we were golden. The great thing was, there was a large space at the end of the garage that we could turn into a studio for me with heat and plumbing. I was so excited. We were blindsided as two other offers came in when we made ours. So, I have been pretty unhappy for several days, now. Not sure what we are going to do as there is nothing, NOTHING, out there that fits our needs, physically and economically. Guess I just have to be patient.
I have decided that I need a mindless project – therapy sewing.  There are yards of each of these fabrics that Lisa designed for Cloud 9. She gave me the whole lot when I was in CA in November.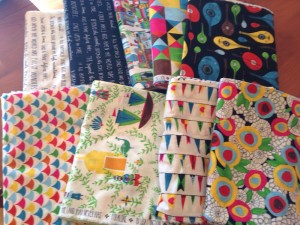 I washed the whole pile and now I have to iron them. I think I will make a couple of kid quilts for Paige and my great niece, Abigail.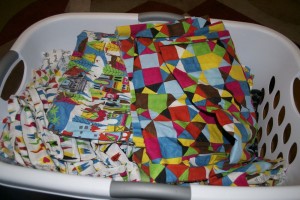 I also washed the Jay McCarroll fat quarters that she gave me last year. I love the colors and patterns in these. I will make a small quilt for someone special. Jay was the first Project Runway winner who is also a quilter.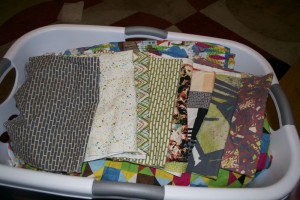 This should help me take my mind off the stalled house hunting.