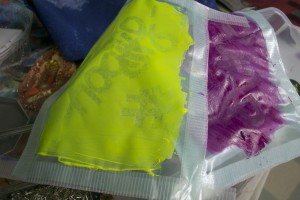 If  you are willing to do something that might not work, you are closer to being an artist. — Seth Godin
When I saw that quote on Facebook, I thought, oh wow, that is me! I am always trying something and hoping it works.
This time, my target is this piece: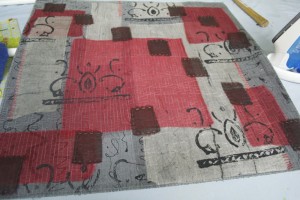 I entered it in the Simply Red show for High Fiber Diet. It did not make the cut. I put it up on my design wall so that I could stare at it and figure out what it needed. I decided it needed a focal point. I am not sure where I got the idea, but I thought perhaps I would do something crazy like screen some graffiti on it. It kind of resembles an architectural structure and so I thought graffiti might in a wild color might make it edgier and more interesting.
When Jane Dunnewold was here, I showed it to her. She agreed that it looked unfinished and she like my idea of the graffiti and felt a contrasting color would add some interest.
On the concrete retaining wall behind our neighbor's home there is some graffiti which I have photographed.
I turned them into thermofax screens and did some test printing on some silk organza that I have been using to test printing for this piece.
Here are my results.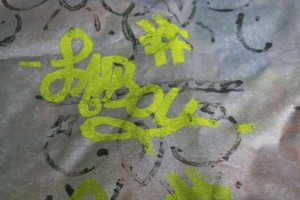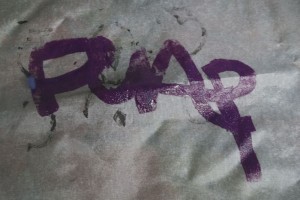 I really want to use a lime green and the one I tested isn't quite strong enough. Not sure which other color I will use, but I am going ahead with this.
Lisa is here, sleeping and getting some exercise and working on some illustrations in my office while she indulges in non-stop HGTV shows. Tomorrow, we are going to pick up Stephanie and drive over to Astoria for the day.
I was looking for wrapping for Judy's hat, which I finished.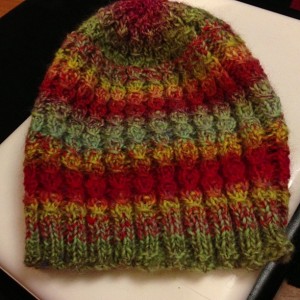 I found one of my bags that I printed last year and used that and sent it off to her. She has already lost her lovely red hair.