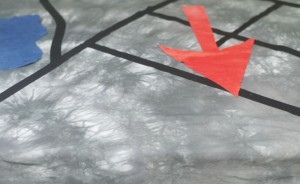 I made a positive start on this art quilt that has been going around in my head. I have the start of a layout that is supposed to look like a "You are here" sign at a shopping center. I have the streets and some water and the arrow. I just need to fill in with the buildings. It is not going to be a real shopping center. All shall be revealed, later.
I didn't have a lot of time in the studio because I got stuck in work mode once again. Plus, I spent some time doing a special newsletter for my guild. We have issued a challenge to help Ami Simms reach the million dollar mark with her Alzheimer Art Quilt Initiative. This will be the last year so that she can get her life back. But what a monumental achievement!
My sketch for today is the last one in my mini-Moleskine. It is the worst one I have done, but I had to do it at the end of my studio time.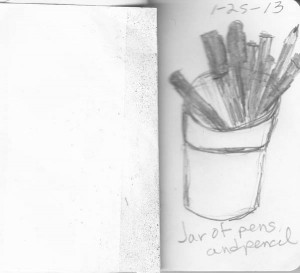 I am moving to a larger sketchbook, the one that Twelve member, Nikki Wheeler made for me.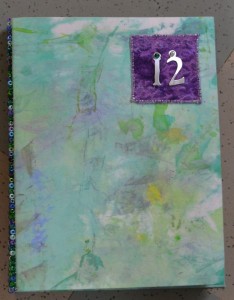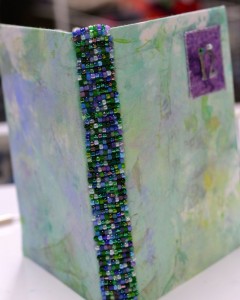 I think I will be adding some color, but have to investigate ways to do that. Or maybe I will just move on to a pen rather than a pencil.
Kristin La Flamme is at the PAQA South conference and sent me this photo of Kelp Dance hanging in the show. Makes me happy to see it.