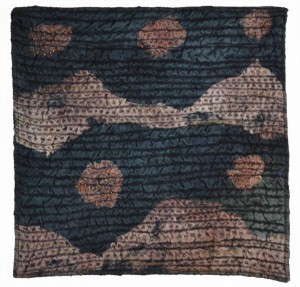 If I am going to leave for California next Tuesday (and I am), I have to keep moving and shaking and getting things done. Yesterday, I sewed the sleeve and made a label for my XOXO quilt as I had to ship it off before I leave town. I also finished the hand stitching on my SAQA quilt, Montanas y Lunas. I submitted the online auction entry form for SAQA. Tomorrow, I will get it in the mail and cross that off my list. Here is a detail: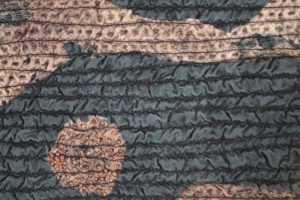 I love the organic quality of this and the texture. I don't know if it will sell, but it is the type of work that I like to purchase.
At the end of June, after I get back from San Antonio, I have to have a submission done for the next High Fiber Diet exhibit, Simply Red. I pulled out my red fabrics to see what I have and to encourage some creative juices to flow.
I have some nice organza. The piece on the left is silk as is the black and red in the middle. I am pretty sure the other piece is synthetic.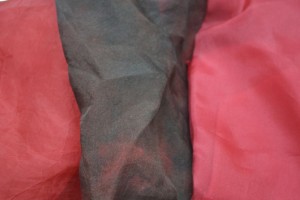 I also have a funky piece of cheesecloth that might be interesting with something else.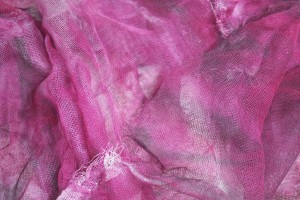 These are various shades of hand-dyed red cotton.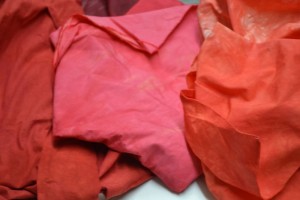 I was thinking that I would try to do a larger piece of shrinky dink red with a discharged design. So I did a couple of discharge samples. The one of the left is with Soft Scrub with bleach. I left it on for quite awhile with hardly any change. The one on the right is deColourant discharge paste. I like what has happened so I think I will go with that. I just have to come up with a design that will work with the shrinking process. I probably will do a sample as I have not done this with cotton.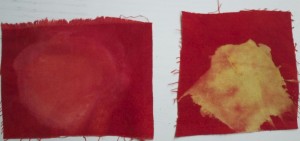 I have been working on the name tags for the conference. I have several different types to do and I need to get them printed and shipped on ahead to San Antonio so that I don't have to take them in my luggage.
This afternoon, I headed out to the mall to get a few new things to fit my shrinking body – I especially needed new summer pants. I also got some new black sandals that I really like. Tomorrow, I am going to try on my dress and see if I think it needs to be shortened. I also need to go through my clothes and decide what to take for the upcoming events. Making lists and getting things done – that is my life, right now. Since we have the return of winter weather, I might as well be hunkered down, getting things done.