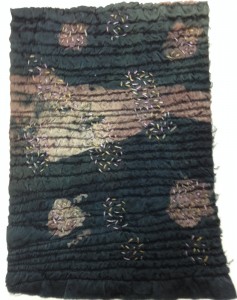 I am feeling a bit overwhelmed and exhausted from our selling and buying ordeal. The good news is that we are under contract. We met the buyers when they came to see the house because they came before it went on the market. They absolutely love our house and I am thrilled for them to be the new owners. Tomorrow, we have to leave the house for most of the day for all the inspections to take place. It means taking Scooter and finding something to do with him. For the open house, we took him with us to do errands and then to the dog park, but it was not as long. Stephane and family are in LA for a photo shoot that she is doing and we do not have the key to their house so we can't go there.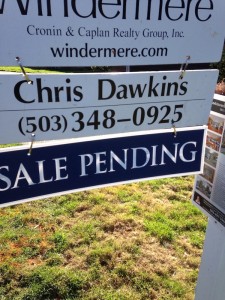 The deadline for the SAQA trunk show is coming up and I didn't think I would have time to do anything. Then, I remembered that I had a remnant of one of my discharged and shrunk pieces. It has to be 7 X 10, finished which I was able to find. It helped to sit and do some slow stitching to take my mind off things. Here is a detail.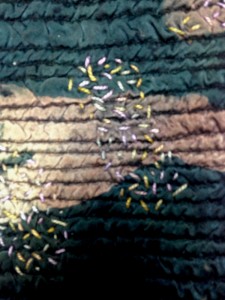 So, now we have to find a place. We hope we have, but it is complicated. More about that later.
I have to be up early to neaten the house for the new owners to come again for the inspection.