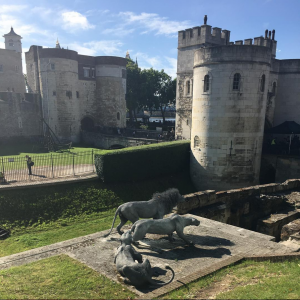 Tuesday, the coach picked us up and delivered us at the Tower of London. We were met with a chain link fence, cordoning off a construction area.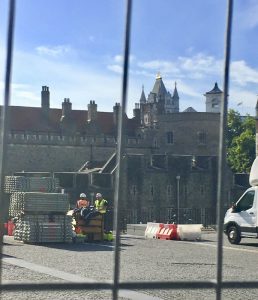 Mr C and I had toured here a few years ago so I was not enthusiastic about expending energy up and down stairs and to check out the Crown Jewels. We made our way to the entrance and up to a plaza area where I found a bench. It was a beautiful day and I was a bit weary so I decided I would just people watch. I loved this view of the chapel with one of the very avant garde modern buildings in the background.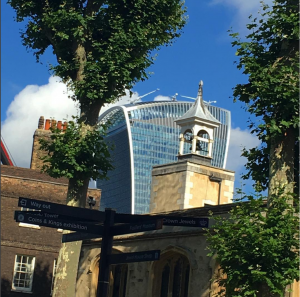 I also got this photo of one of the ravens that live on the grounds.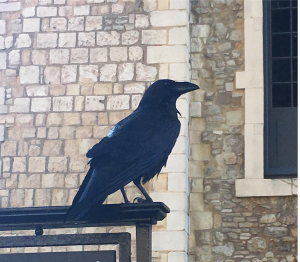 Here is a bit of trivia about them:
Legend says that the kingdom and the Tower will fall if the six resident ravens ever leave the fortress. According to the stories, it was Charles II who first insisted that the ravens of the Tower should be protected.

This was against the wishes of his astronomer, John Flamsteed, who complained that the ravens impeded the business of his observatory in the White Tower.

Despite the painless clipping of one wing, some ravens do in fact go absent without leave and others have even been sacked. Raven George was dismissed for eating television aerials and Raven Grog was last seen outside an East End pub.

'The ravens eat 170g of raw meat a day, plus bird biscuits soaked in blood. They also enjoy an egg once a week, the occasional rabbit (complete with fur) and scraps of fried bread.
I also had a view of the red suited guards who marched back and forth. I had a video of them, but I guess I deleted it.
We also decided to join a Yeoman Warder tour ( also known as Beefeaters). They are very articulate and funny.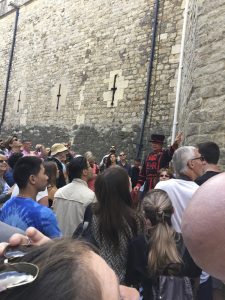 He ended the tour in the chapel where we could ask questions. I thought the windows were beautiful.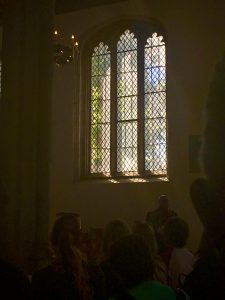 Then, we were back on the bus and off to the Thames where we had a boat ride to the Westminster Pier. Here is a collage of photos: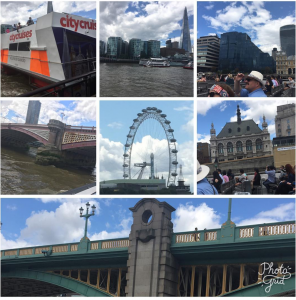 We were then on our own. By this time, I was starving and about to hit the wall from exhaustion and jet lag. I will admit to being a bit of a mench!! We found a place for lunch and pondered our next adventure. It was between walking over the bridge and riding on The London Eye that  giant Ferris wheel on the South Bank of the River Thames or walking to the National Gallery of London. I opted for the National Gallery and we headed to Trafalgar Square. It was a bit warm and I was still hitting that jet lag wall. We found our priest, Julia, sitting in the square with a friend of the family who works in London. They got up to leave and gave us their seats in the shade. I kept looking at the National Gallery in front of us.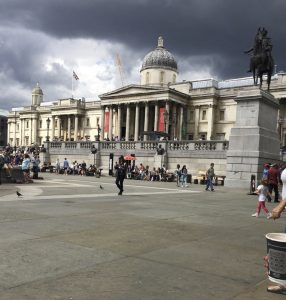 I finally said, I need to go back to the hotel room and take a nap. Mr C was not at all unhappy with this decision. We fell into bed and a deep sleep. We woke feeling refreshed and found a nice place for dinner on High Street. It was the cure for my crankiness.
Here is my activity for Day 2 in London. Taking the Underground will provide you with plenty of flights of stairs!