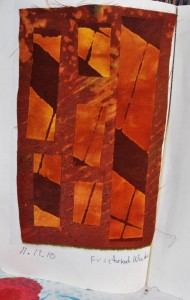 I didn't post last night. I had a High Fiber Diet meeting. I came home with a headache because of an incident at the meeting. I also came home to find that Allegro did not make it into the SAQA Beyond Comfort show and was very disappointed.
Then, a member of High Fiber Diet e-mailed me with great news that our Bird's Eye View show was accepted for the Maude Kerns Art Center in Eugene. The bad news was that they wanted it when I had scheduled it at Trinity Cathedral in March and April. Eek!
So there you have my disappointment and my challenge.
Now that I am seeing some of the work that was chosen for Beyond Comfort, I think it would not have played nicely in the show. I have another show to enter that is looking for:
Quilt artists are encouraged to present works where they are reaching outside the terminology of a quilt. Surface Design artists are asked to show works that use various materials in a fiber technique (i.e. weaving with wire) or to stretch their fiber techniques to new boundaries.
So, back to the Bird's Eye View show. What to do? Well, amazingly, last night at the meeting, we discussed trying to do more than one show — possibly finding a venue and mounting a show. So, that is what I am doing. Bird's Eye View will go to Maud Kern's and we will have a new show titled, Back to Nature. I invited members to bring me work that references the natural world – abstract or representational. We will jury a small show to go to Trinity. I am really excited about this and have gotten great response from members today.
So, there you have my opportunities.I feel energized and invigorated.
In a comment to my post on the experiment with deColourant, my friend Judy said they had experimented with it in Jane Dunnewold's studio last week, and they found it worked best to let it dry for a day or so. I hate to wait, but that is what I am doing with a couple of scarves I treated today.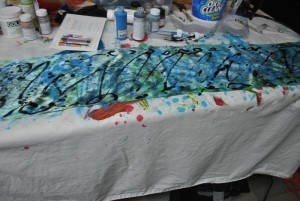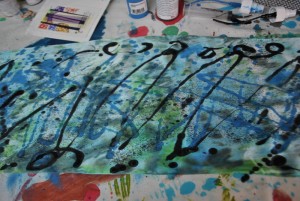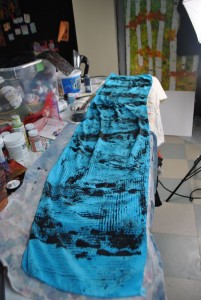 They will probably get another layer of something. Here they are on my drying rack: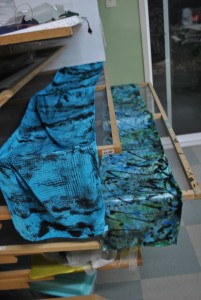 I used this piece of corrugated cardboard to print. I love it.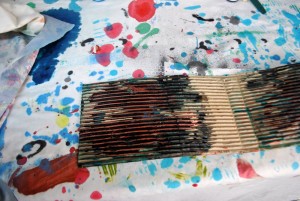 I have one more page in my fiber sketchbook. The one up there is deconstructed windows.