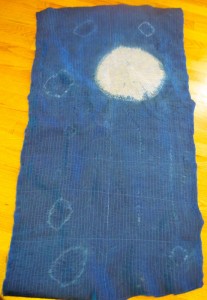 I finally got the blue moon quilt stitched to the pre-felt and ready to shrink. But, oops, it really shrunk. I should have tested a small piece of organza to know what was going to happen.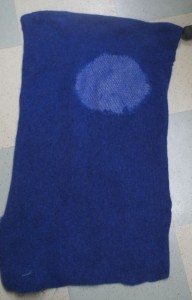 The blue pre-felt totally felted through to the front. I think this can be saved, but will not be what I imagined. I stretched it on my ironing table and blocked it by pinning it as I stretched it. I decided not to put it in the dryer.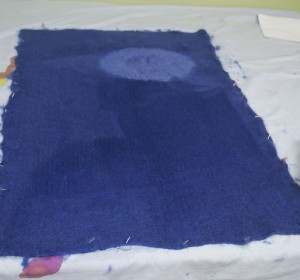 Tomorrow, I am going to test a small piece of organza by just getting it wet and wringing it out and then put it in the dryer.
I think I will have time to do that. We have dinner guests, friends from our neighborhood so I have some cooking and cleaning to do. We enjoyed some time with the Portland contingent of family last night over pizza and ice cream.
Here is the progress on the chemo cap I am knitting. I am loving these colors. I have just 4 rows done on the pattern so it is hard to see how it will look. It is not just stockinette!