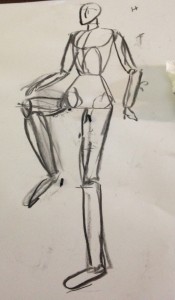 It has been a busy week! I had a SAQA meeting on Wednesday and lots of SDA work. Here is an update on the drawing class. We had our last session this week and he showed us how to draw the whole body and show different postures. Drawing a skellie first can help you get the right angles on the body parts. For instance, the above drawing was taken from this skellie.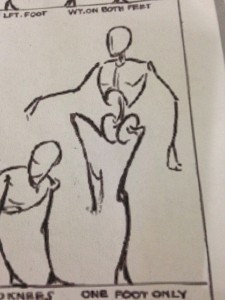 Did you know that the perfect proportioned body is 8 heads tall, but most of us are 7 – 7 1/2. The torso is two heads, the pelic area is one head and the legs are 4 heads. So you can take a piece of paper and divide it into 8 portions to draw your pefect human specimen. The photo's perspective is off because the drawing was on the table.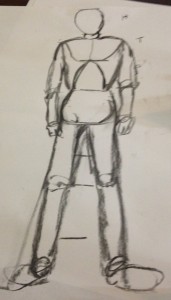 Another interesting fact is that an infant is 3 heads tall. Many paintings of babies have the head too small. As a child grows, the number of heads change. We also practiced other figure positions. This one is supposed to be standing on his right foot.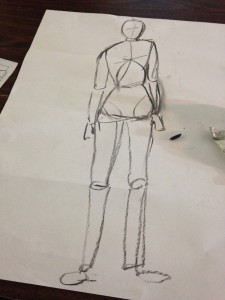 Here is another figure that I did.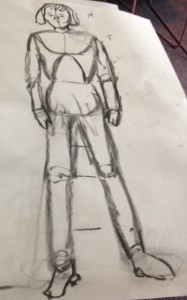 I doubt that I will be doing a lot of figure drawing, but I so enjoyed this process.  It has made me look at figures in paintings with a whole new eye. Next week, we start reduction printing. I am going to assist the teacher. I hope I get to participate, too.
I was able to get to the studio one day and made a lot of progress getting the fabric stash under control. I also painted some silk samples. I think I am going to paint silk for my solo show instead of dyeing. I worry about the cool weather and getting the depth of color that I want. I used Jacquard's Dynaflow paint on silk charmeuse and silk/cotton blend. I decided that I like the heavier weight charmeuse best. It is on the second fabric, below.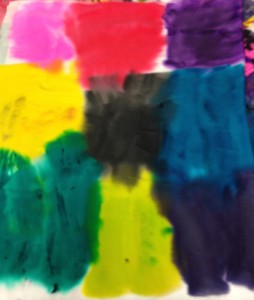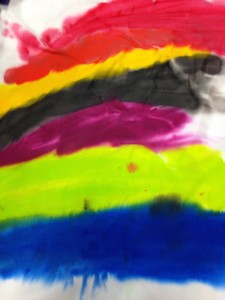 So, today, I ordered 15 yards of silk charmeuse from Dharma and copious amounts of Dynaflow paint. I can't wait until it gets here.
Thursday was Mr C's 75th birthday. On Friday night we went out with Jack and Steph to a marvelous French restaurant in our neighborhood where we had a most excellent meal. Then we had birthday cheesecake back at The Congdo with M & M. It is always fun to catch up with these two and hear how well they are doing in school and life.
My new glasses came in early and I must say, they have really made a difference. So  happy to be done with the eye strain and headaches. Who knew?? LOL
Yesterday, Terry Grant and I drove south about an hour and so to see the Stitches in Bloom show at the Oregon Garden. We both had work in the show. It was an interesting show with art quilts and traditional quilts sharing the same crowded space. There were quite a few vendors selling quilt fabric and notions. We had a nice lunch at the resort restaurant and then listened to a lecture by Cynthia Corbin from the Seattle area. I so love her work. Click here for a look at her website, if you are not familiar with her work. She has great sense of humor, too. I am looking forward to her workshop with the guild in March.
Here is a blurry photo of my leaf quilt at the show.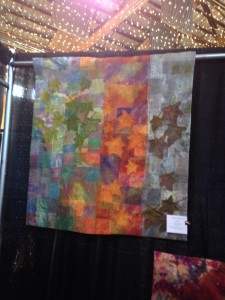 It was a beautiful day to drive through the bucolic Oregon countryside. We saw Mt. Hood showing itself in all different directions.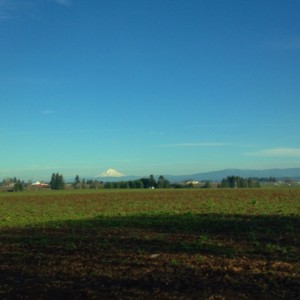 My goal for tomorrow is to do some more work in the studio and quilt my January EB piece.