I had so much fun making this arty oven mitt. I selected some heavier fabrics from my stash of scraps: bark cloth, upholstery fabric, drapery fabric.
I pieced them into two sections large enough to cut the glove.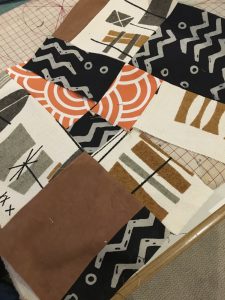 Then I layered them with Insul-Bright and some cotton ticking for lining and quilted the sandwiches together.
Next I cut out the glove shapes and stitched them together. I just have to bind the open edge.
I have done the first set of stitches on the silk backgrounds for the silk stitch along  with Laura Wasalowski. We were told to do a simple horizon line.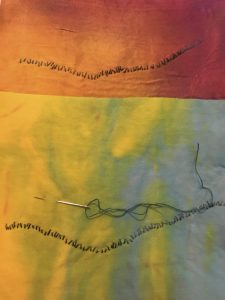 It has been good to have projects to work on because the weather here has been miserable. It has been below freezing for a week and then it snowed, sleeted and rain so everything is coated in ice. I am getting cabin fever.