Me and my blue fingers are checking in with some photos of today's shibori class. I learned a lot about indigo and the Japanese method of shibori. We did several samples: stitching, clamping and scrunching.
Here are photos of my stitching. This method of shibori is very tedious, but you can get some interesting and almost predictable designs. Here are samples of my stitching: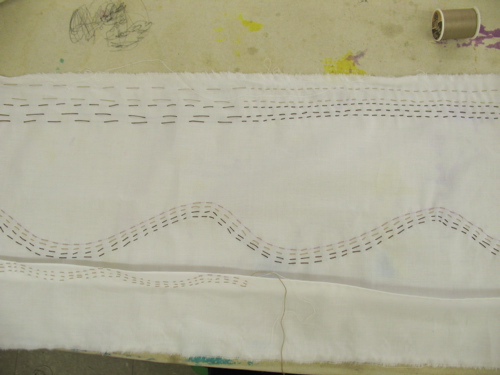 Here is the same piece with the stitches pulled and gathered. I used buttonhole twist for strength.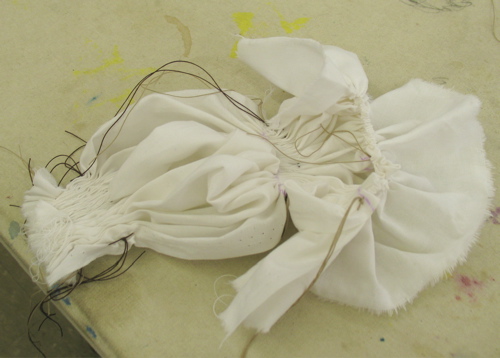 Here is the other piece. It has screws which I have stitched around and some curved stitching.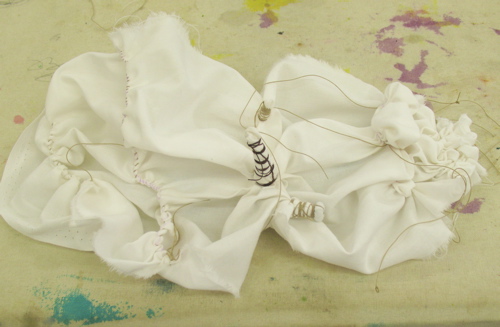 Here are some fabrics that are folded and clamped.
Indigo is not fiber reactive. It lays on the surface of the fiber and needs oxidation to work. So you have to dip in the indigo, take it out and fuss with it while the dye turns from green to blue as it oxidizes; this is repeated at least 3 times – more for silk.
Here is some class work hanging on the line to dry.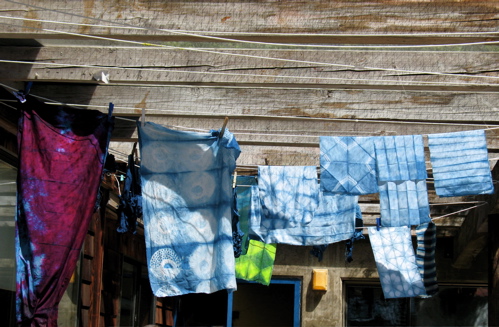 And here are today's samples, rinsed, washed, dried and ironed.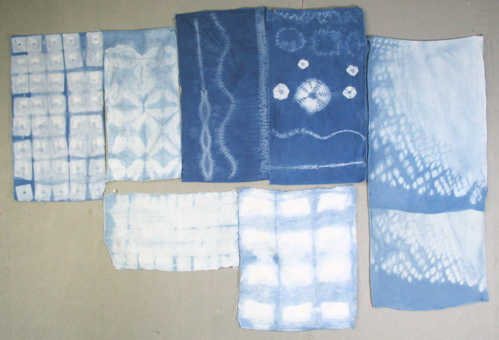 Clockwise, here is what I did:
cotton folded and clamped with a two Plexiglas squares that had holes in the center.
dupioni silk triangle fold and clamped with sections of a wooden clothes pin on each side.
cotton shibori stitching
cotton shibori stitching – attempting shapes and stitching around screws
silk chiffon scarf that was wrapped around a 1 1/2 inch wood dowel and scrunched – not tying.
linen damask tablecloth piece folded and clamped with credit cards on each side
dupioni silk folded and clamped with Plexiglas squares
Today, we used synthetic indigo. Tomorrow we are using the natural stuff. I have one piece that I am using a rusted metal to clamp it. It has to dry between dye dips so that the oxidation can cause the rust action.
There are 8 students in the class, with a couple of young women — the rest are in my generation. I love the instructor. She has a great sense of humor and is ever so patient with us.
I am going to prepare an arashi piece for dyeing tomorrow. That is the pole wrapped fabric with string and scrunching.
I made it to Weight Watchers at 5 pm and weighed the same as I did last week in the morning so I am assuming that I lost about 2 pounds, at least.