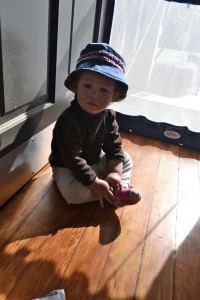 We are home, arriving at lunch time. I had to hit the ground running as I have mucho work to get done — an updated report for the SDA conference, Guild newsletter and many e-mails to answer. I realized when I got home that I had left the power cord for my laptop in the hotel this morning. Even if I get them to mail it to me, I can't wait. So off to the Apple store. I didn't quite finish the guild newsletter. I hope to have a clearer head in the morning. Before I crash, I thought I would do a quick post.
So, back to Paige's birthday. There she is up above on the morning of her party. She loves to be outside and she was waiting patiently for someone to take her.
We went to the backyard and played in the sandbox.
I decided it was a bit chilly so I went in and found a sweater for her. She continued to amuse herself and watched her daddy cleaning up the grill and the patio to get ready for the party.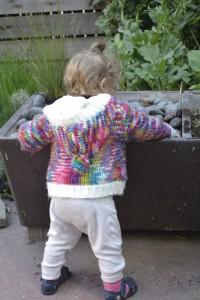 Later, everyone got in the act of preparing food. Her Grammy Karyn made two cakes  — a gorgeous carrot cake for the adults and a healthy baby cake with no sugar for the kids. My son grilled pork loin. I prepared slaw and asparagus for grilling.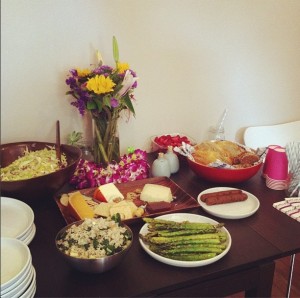 Here she is with her Daddy ready for guests.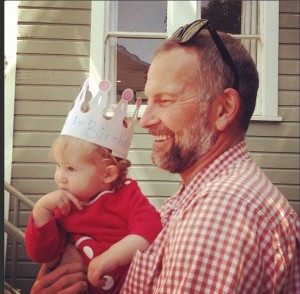 Here is Paige enjoying her cake.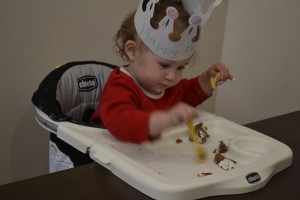 She is just learning to use utensils and often likes to have two of them.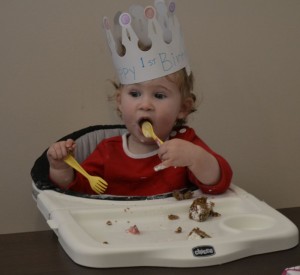 Later, she opened all of her presents — sort of — she has not quite gotten the whole present opening excitement, yet.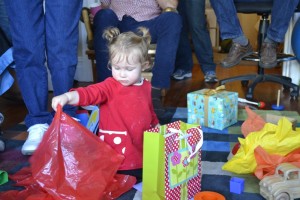 Her parents gave her a shiny red piano. I have an hysterical video of her playing it.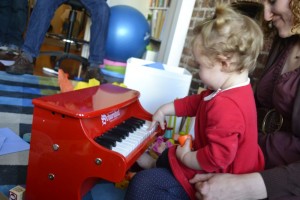 It was a wonderful week-end with plenty of Paige time. I got to see Lisa and Clay's new home in Oakland, and we also stopped by the venue for the wedding in Mill Valley on our way back to Oregon, yesterday.
I am gearing up for a month and a half of lots on my plate as I continue with SDA conference registration and helping with Artists Among Us at Trinity. I need to get some small works done for the Trinity show and sale. I need the balance of some creative work.
My heart is saddened over the bombings in Boston. I am sending out good thoughts and prayers to all the victims.