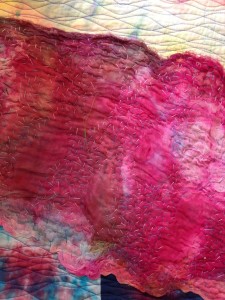 My life is full, fun and fantastic, but time gets away from me. The main reason I am a bit distracted this week is the visit from my two Oakland girls, Lisa and Clay and they brought Wilfredo!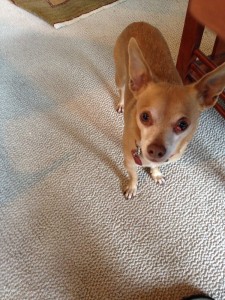 Four adults and two dogs are getting along just fine in our condo. My son in law, Jack, has named it The Congdo! We have had such a good time with them, and they love our neighborhood. This week, Lisa is participating in an ICON conference and tonight is a meet and greet at the Portland Art Museum. She has her books to and some prints of her work to sell and examples of all the work she does. Saturday, she is doing a workshop session on the business of illustration.
Every one gathered here for the 4th of July. We had great food and it was fun to have every one here. We could watch fireworks from our windows. We had some great salads and kabobs.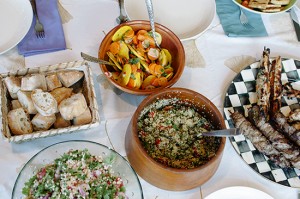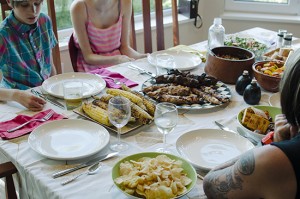 These photos were taken by Steph for her 3191 blog.
I have been working frantically to get my two big quilts done for the High Fiber Diet "What's Blue to You" exhibit.
Lisa took this photo of me with my blue picasso woman and posted it on Instagram.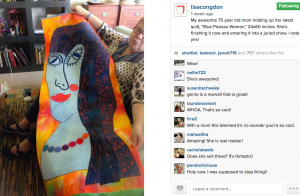 I got 760 likes and 72 comments. The comments cracked me up.
This is the Sky Blue Pink quilt as of today. I think it might need something more. I am disappointed with the wonkiness of the bottom. Not sure what to do. The photo at the top is a detail shot of the hand stitching on the cheesecloth section.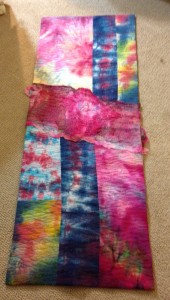 Today was STASH day at Gale's home. I just love spending a morning with my friends, chatting and eating. Reva brought her vintage t-shirt quilt At our next meeting, we are going to help her tie it. It is to unwieldy to do machine quilting.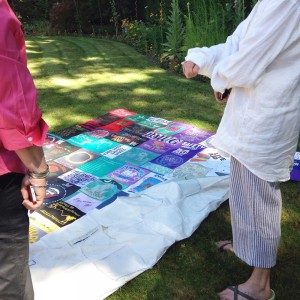 So that is a bit of what I have been up to. The other part of my life is so left brained. I am helping SDA with membership and database issues on the website. There have been some problems with work done by some previous employees. We are slowly getting it under control. We have about 4000 members and people join and renew in various ways – phone, mail, and online. I get a real sense of satisfaction as I troubleshoot issues.