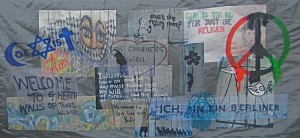 My long time readers know that one of the most profound experiences in Israel was seeing the barrier wall that cordons off the West Bank from Jerusalem. There is a lot of art and graffiti on the Palestinian side and hardly any on the Israeli side. The wall has become a place for the Palestinians and visitors to share their hopes and fears. I have taken many of these images and some of my own to create my version of the wall. Click on it to read the different writings.
I had a bit of a disaster. I wanted to do the peace symbol in the colors of the Palestinian flag. I did cut the symbol from freezer paper and ironed it to a silk screen and did a test print. But when I printed on the actual piece, I didn't get much of an image at all and then I couldn't line it up to reprint. I decided to use a brush and give it the look of handpainted graffiti. I even added the drips. I was afraid I had ruined the piece, but I think it is going to work. I think I need to add some more red on the other side to balance the color. I also screened the coexist sign and a Hand of Fatima which is a symbol worn in the middle east by progressive people who see this as a symbol that is part of both the Islamic and Jewish religions. One of the members of our group called the wall  ..the wall of not letting out just keeping in…
On another note, I found my way to Eva Marie's blog: My Creative Diary – Colourful Research. She has done what I wanted to do, created the Non-award Award. She gives permission to steal it for your own blog which I have done. It is in my sidebar. If you click on it, you will go to her post about blog awards. I loved it.
At 7:30 pm, my show postcards were finally delivered by UPS. I am going to try to get them in the mail tomorrow.