On Thursday, Lisa and Clay arrived from San Francisco while I was having fun with my STASH group – it is the first time that all six of us have been together in so long. In the afternoon, the girls and I headed down to Pioneer Square where Design Week Portland had set up a display and geodesic domes. In one of the domes, she was interviewed by Namita Wiggers,  former Director and Chief Curator for the Museum of Contemporary Craft in Portland, and  now freelance curator and writer. Coincidentally, Namita will be the keynote speaker for the SAQA conference in Portland next year. I always enjoy hearing Lisa talk about her path to success as an artist. Two people brought their college students to her talk — pretty cool.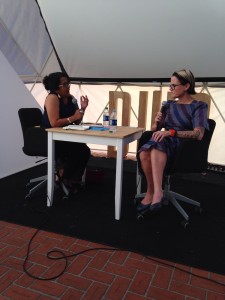 On Friday, I got my new teeth "installed." They look really good! After that, I picked up Steph and Mia and we went to another event where Lisa was the featured speaker. She talked about her evolution as a sketchbook user and how important it is to her work, now. She had her two latest books there for sale and after the talk, she signed books. When I left there was a huge line and she sold out of all her books. I think there were over 200 people there for the event.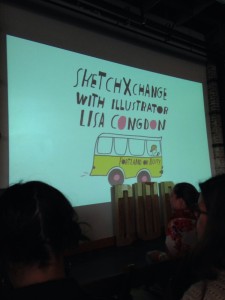 On Saturday, I got to go shopping with Mr C and pick out some birthday presents for myself. We all went out to dinner on Saturday night because the girls were leaving on Sunday, my actual birthday. We has a wonderful meal at a restaurant in our new neighborhood. This is me ogling my birthday cheesecake.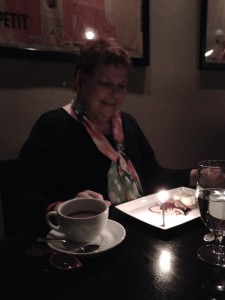 On Sunday, after church, we went out to brunch with a group of friends who had gone on the trip to Israel with us. One couple was visiting from Iowa. So I feel as if I had a wonderful 4 days of fun and good food and great company.
I managed to get a little studio work done. I painted some organza for leaves for the quilt I am trying to rehabilitate.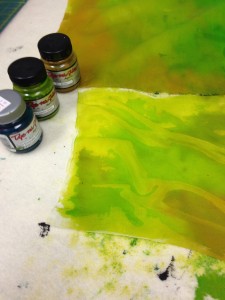 I then fused pieces of organza together to give more depth and character to the fabric.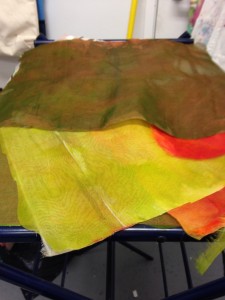 I need to find time to cut and stitch the leaves and finish redoing the quilt before my crit group next Saturday. But, first, I have to finish the guild newsletter!