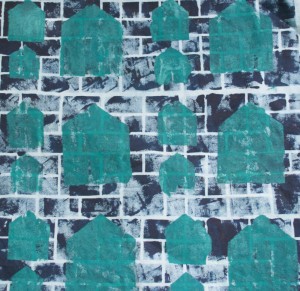 I didn't realize I had been away from blogging for so long! It was a busy end of August! Above is the print I did for Deborah Boschert who was the queen bee for August. She proposed an architectural theme in blues. I picked up some nice stencils at Quilt Knit Stitch and used this one that looked like bricks for a building. The base fabric was a light blue and I sponged on an indigo color.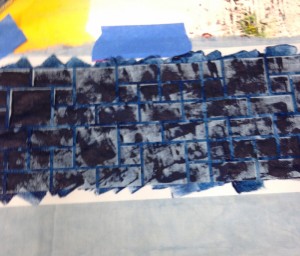 Debra uses a simple house shape in her work. I made a freezer paper stencil of that shape in 3 different sizes and used a blue green paint to add the houses.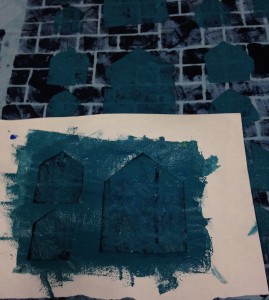 Here is the 6 inch piece for the giveaway.
And the mosaic of the prints done so far.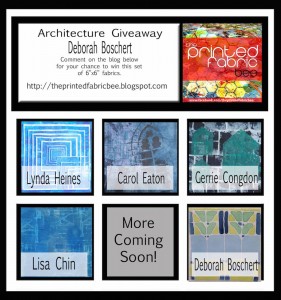 For a chance to win the collection ( I am sure more will be coming), leave a comment on the Printed Fabric Bee Blog.
I am still having severe pain in my right knee/leg. I am having an x-ray and seeing the ortho doc on Friday. Hope to get some answers and relief.
One thing I did last month was to finally finish the kid quilts made with my daughter's line of fabrics. Here are the girls with the quilts after they arrived in upstate NY.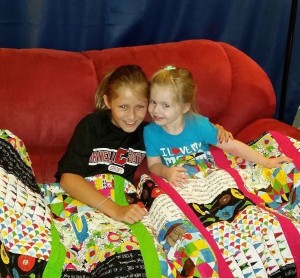 We also did a bit of a remodel in the bathroom where we wanted more storage. A huge mirror was removed and medicine cabinets installed. We painted the room a soft gray and put up wallpaper on the cabinet wall. The wallpaper is from a line of removable wallpaper designed by my daughter, Lisa. We love the whole thing.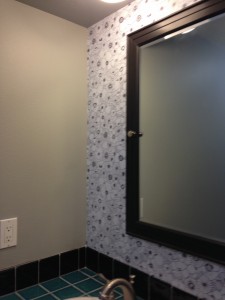 While Lisa and Clay were out of town this past week, we got to have this cute little guy stay with us.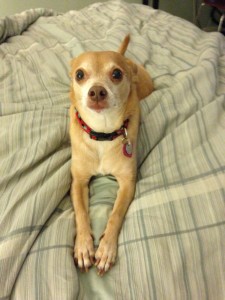 Right now, I am in the midst of finishing up the current homework for my online master class. Perhaps I will post about that tomorrow.