My days are so full; there is no time to just put my feet up and chill. I am, however, feeling some withdrawals from the studio time. I keep thinking I need to get down there and get to work. But,  one look at these photos and you can see I need to do some clean up.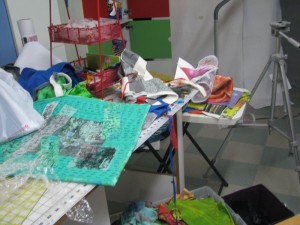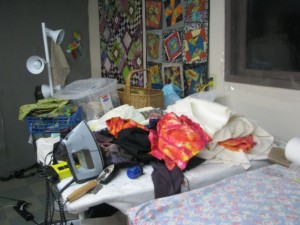 Look at this poster I received from Lisa for Christmas.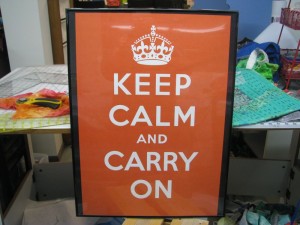 I love this. It was first produced and used in England at the beginning of World War II to offer the public reassurance in the dark days which lay ahead.
I have just about finished the first round of SDA conference workshop assignments and every one has received and e-mail or snail mail confirmation. Monday, I will start working on the next batch.
I took a break yesterday to attend my crit group. I didn't have anything new so I took the reworked Urban Sunlight. Got some excellent comments and possible problems. It is what it is. I can't change anything on it now. But will keep the comments for future work.
Today, I have been getting ready for tomorrow's reception for my show at the cathedral. I am having an assortment of middle eastern treats, like dates, almonds and baklava!! I picked this up at a Greek deli – just baked. It is so good, you can see that we gave it a taste test.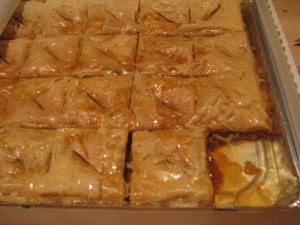 I have lime green cups and some coordinating napkins.
I also made some business cards, just in case someone wants to get in touch with me.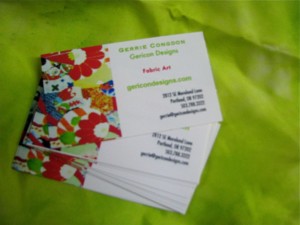 I have to get up early in the morning. I am doing a gallery walk/talk at 9 am, followed by church. We will hang out and set up for the 1 am reception. If you are in the Portland area, I hope you will come by.
Finally, look what we received in the mail today: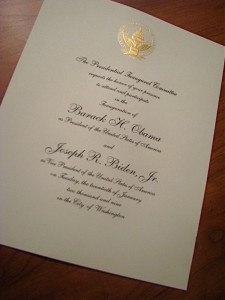 There is no way I am going to DC for the inauguration, but this will be a nice keepsake.
I hope to get some good photos at the reception and will post tomorrow.