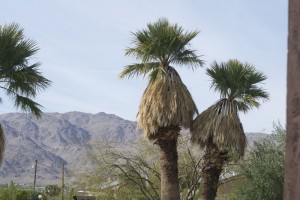 It has been too long since I checked in here. After a few days in San Francisco bonding with our new granddaughter, we headed south to the desert to spend time with Steve's brothers and their wives — Mike and Ann live in Twentynine Palms and David and Kristin live in Florida and flew out to join us for a few days.
The virus and sinus infection that I had when we left home finally left me, but it took a toll on my energy level. Keeping up with the daytime activities, meant that I was exhausted by evening and so blogging went by the wayside.
It felt so good to be in the warm, dry desert and wear a t-shirt and sandals. I soaked up some vitamin D and got a bit of color, but no sunburn. I love the big open sky and the long visitas of the desert.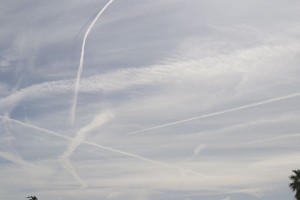 My Florida SIL, is a retired art professor from University of Southern Florida. She is an authority on folk and public art and has written several  books and discovered a number of interesting outsider artists. She always has a list of things to look for and visit when she arrives. She did not disappoint us. The area around Twentynine Palms is a treasure trove of art installations — funky and surreal.
The High Desert Test Sites is an organization with the following mission:
High Desert Test Sites generates physical and conceptual spaces for art exploring the intersections between contemporary art and life at large. Scattered along a stretch of intimate yet diverse desert communities that include Joshua Tree, Pioneertown, Wonder Valley, Yucca Valley, and 29 Palms, our sites provide a place for both fleeting and long-term experimental projects.
If you click on the link, you can read about some of the sites.
Here are some photos from our first day of driving around the desert.
Our first stop was the Sky Village Swap Meet that was a very weird collection of stuff arranged in booths and shanties. There were wonderful cactus groupings that I loved.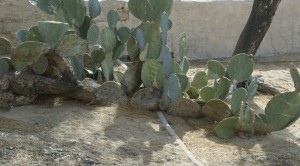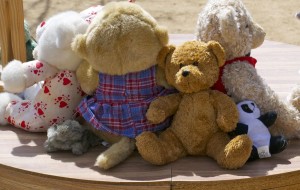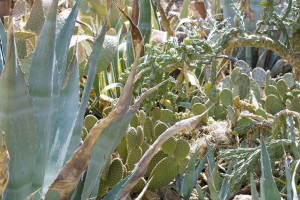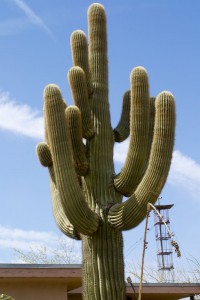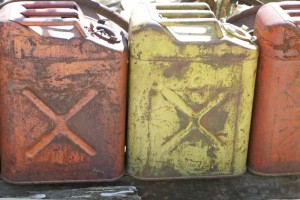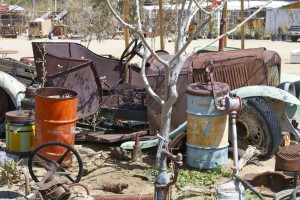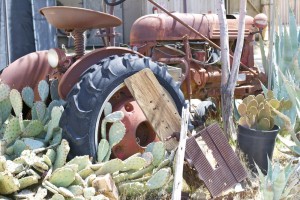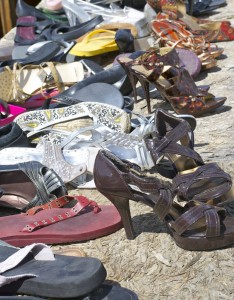 Our next stop was the World Famous Crochet Museum. What a hoot!!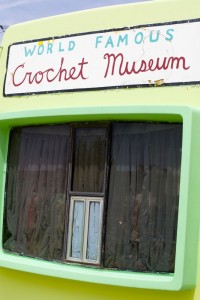 This was a former film developing building.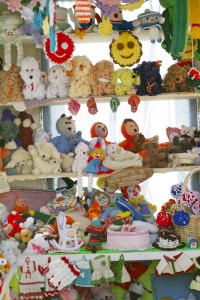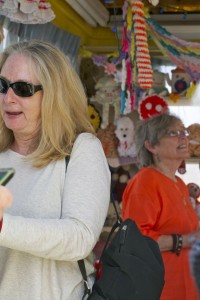 Here are Kristin and Ann enjoying the crocheted items. The little building was packed.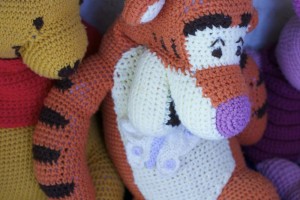 I have tons of photos and will try to get some more ready to post tomorrow. I have a ton of work to do to get ready for our Artists Among Us. I also am itching to get back in the studio and get caught up with my 3 x 3s. Today, I helped with the art class at Trinity, did loads and loads of laundry, tried to organize my life and had pizza with the family. It was nice to check in with M & M and their parents.