a check for $250 make one a professional quilter?! I won in the challenge category at the Marin Quilt Show for my Five Fancy Fish Frolic Freely Quilt: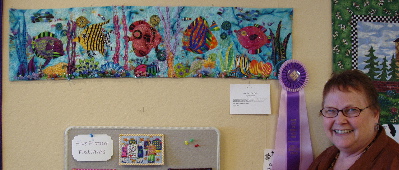 I have donated the full amount to the Red Cross through Whole Foods which is doing matching funds and also contacted Karey Bresenhan of Quilts Inc so that it will be matched there – so it has grown to $750!
The Marin Quilt show is an amazing show for a non-juried show. Anyone can enter up to 3 quilts. And they are accepted on a firs come basis. Here are some of the highlights: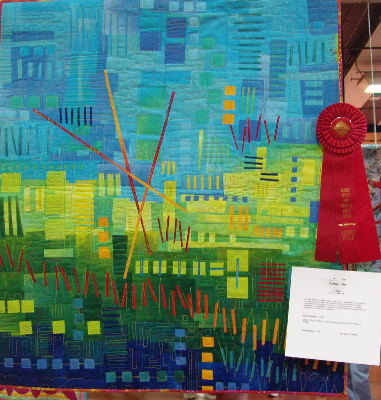 Liz Berg's Summer Fun got a second in it's category. Love it!!

This lovely quilt was done by April Sproule. I am not sure my photo does it justice. It consists of two layers. The bottom layer is a real quilt with three quilted layers. In two areas it has painted red flowers. The top layer is sheer and has this amazing fused and appliqued
design and the painted flowers and there areas that are clear where the painted red flowers on the bottom layer show through. The bottom layer is quilted with a metallic thread the complements the design in the top layer. Just yummy and so original.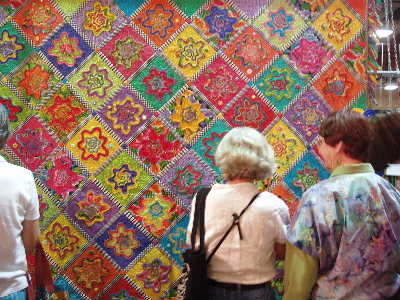 I couldn't get a photo of the whole quilt. But this is the opportunity quilt for the guild in Chico and it is stunning. It is a Karen Stone Design. Each block is made by someone in the guild and each block has embellished stitching and BEADS!! Here is a closeup: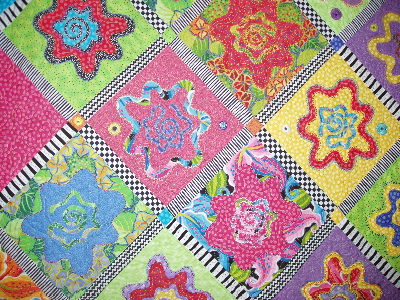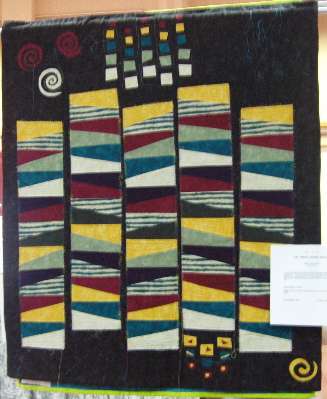 I loved the simplicity of the design for this. She did it in a class with Marilyn Felber who is going to do a design class with my art quilt group.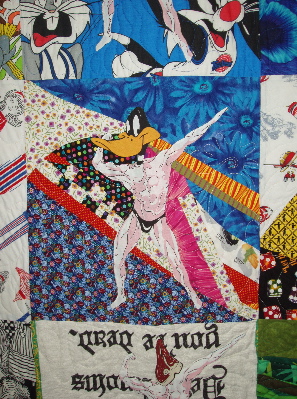 This is a closeup of a quilt that tickled my funny bone. He took this masculine image and added a cartoon head. Each one was different.
This quilt was made from Lonni Rossi fabrics. I thought it used the fabrics very effectively and the quilting was great. The colors are not really true, but you get the idea.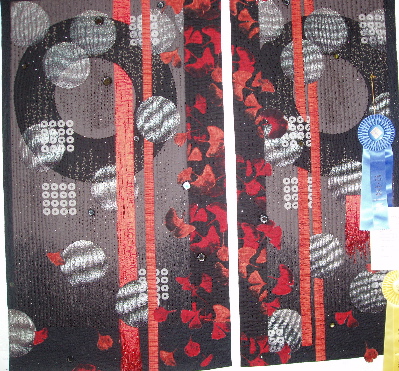 Loved this quilt done by a guy with Lonni Rossi fabrics. It has wonderful beading on it. It is two panels, so that is not a white strip down the middle.
My guild fared quite well with several ribbons. I bought some great fair trade fabrics from Africa, some Australian fabric, some Japanese Kimono scraps, and some hand-dyed silk.
The six of us went out to dinner after the show and had such a good time. Quilty friends are the best. We are off to Tahoe tomorrow for some R & R. See you later!