W's Mother had this to say. after touring the Astrodome:
?¢'Ǩ?ìAlmost everyone I?¢'Ǩ'Ñ¢ve talked to says ?¢'ǨÀúwe?¢'Ǩ'Ñ¢re going to move to
Houston.' What
I?¢'Ǩ'Ñ¢m hearing, which is sort of scary, is they all want to stay in Texas.
Everyone is so overwhelmed by the hospitality. And
so many of the people in the arena here, you know, were underprivileged
anyway, so this – this is working very well for them.?¢'Ǩ¬ù
I just have to say, "Now we know where W gets his diplomacy from!"
I just finished a small quilt for Laura's Art Doing Good Project and I have one that I started in a class with Mrs. Mel, that I am donating. It is always scary to put your work out there for sale next to work by artists like Liz Berg.
This is Leaf Construction III. The leaves on the left section are printed on silk from a scan of real leaves I collected last fall, with an overlay of bronze organza. The center leaf is screen printed. The leaf on the bottom is stamped. The leaves on the top are very fragile leaves that I found at the art store that I have appliqued and I hope they survive, but the laciness of them is so pretty. Most of the fabric is hand-dyed silk. The other fabric is a piece of antique Japanese textile.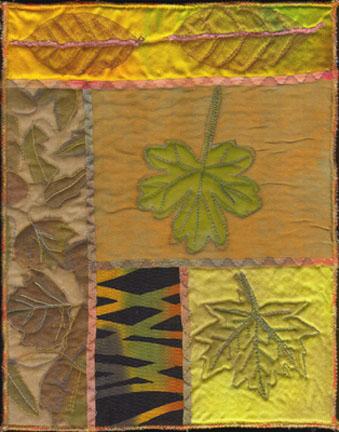 This is the little piece from my series that I did in Mrs. Mel's class:
These are both about 8.5 X 11 inches. Go check out the site and buy some art and do some good.
For my blogging fans who have been following my Princess Bad Hair Day problems, I took the plunge and went to a new stylist. Liz Berg saw me last week at the Marin Quilt show and said your red, spiky air is gone. So I knew I had to do something. Andrea is very nice and not unlike Cynthia in personality. So here is a view of my new color and cut: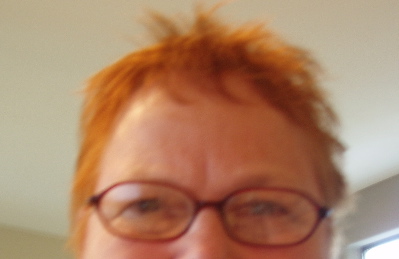 It is not too bad. I have to see how it looks once I have washed and styled it. So it is Princess Not So Bad Hair Day!!