Update on my health. I can't seem to kick this sinus thing. I finished the antibiotic on Tuesday, but feel as if the infection is not gone. I had to run a guild business meeting this morning. I came home feeling lousy. I worked on the piece I'll show you later, but am not feeling very energetic. Steve took me to our favorite neighborhood trattoria for supper – Cafe Citti. I had the house specialty of raviolini en brodo (raviolis in an a wonderful homemade broth) and Luca's Garlicky Caesar salad and a glass of good Italian red table wine. Soup, garlic and red wine – a winning combo. I felt a little better.
Now on to my latest quilt. First, I want to show you work by one of my favorite artist's – Ton Schulten. He is Dutch. Here is one of his paintings.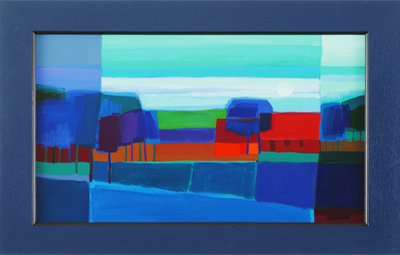 You can see more of his work here. I am on a quest to learn how to abstract scenes and landscapes. I love how he uses colorful shapes to suggest the elements of a landscape, using unpredictable colors.
Several months ago, I acquired Mrs. Mel's fused scraps. I used some of them to construct a new Spooner Lake Aspen quiltlet. I used pieces of fabric and fused them in a sort of abstract way. Here it is: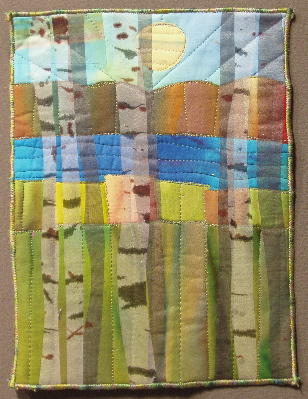 The organza aspens do not show up as well on the cotton; they have a sort of ghostly look. I think I should have cut the mountains in the background in straight lines to really finish the abstraction. Anyway, I enjoyed this and will look for some other photos of landscapes, etc. to abstract.
Tomorrow morning I am getting my hair cut and in the afternoon I am going back to Dr. Felicity to see if she can help me get better.