I went to get my hair cut yesterday morning and guess who walked in and has a new station? David! The guy who was supposed to inherit my head at the other salon and was let go for drug use!! We never made eye contact. I kept my mouth shut. Everyone deserves a second chance!!
After the haircut, I ran over to Barnes and Noble and found the current issue of Cloth, Paper, Scissors and bought 3 copies. Shameless that I am, I forced the clerk to look at the article. She said "Is that a rug!!" I laughed and said, "No, a little smaller – a postcard." She seemed impressed!
In the afternoon, I went back to see Dr. Felicity. I am on a new super duper antibiotic and prednisone. (Oh,oh – quilter on steroids, again.) I am going in for a cat scan next week and may have to see an ENT specialist. I am feeling better this morning.
After that, Stevie took me to get an early birthday present. I am so excited. Here it is sitting on my lap.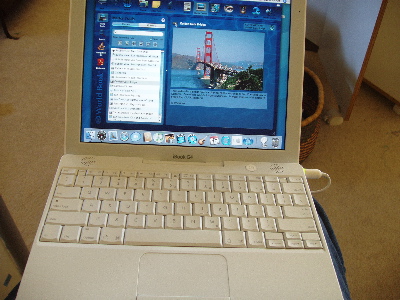 It is the smallest of the Apple laptops – the ibook G4. I can now take my e-mail and blogging on the road with me. Watch for some great photos to come from PIQF next week. I am taking workshops with Mrs. Mel and Robbi Eklow – I'm so excited.
Charles Schulz, the creator of Peanuts and Snoopy lived here in Santa Rosa. His wife created a museum dedicated to his work. For the next 3 months, they have a show of Japanese quilts with a Peanuts theme. Our guild is helping on the week-ends by doing demonstrations and white gloving. They are letting us sell tickets for our opportunity quilt. This afternoon I am going to demonstrate making fiberart postcards. Here is one of the quilts: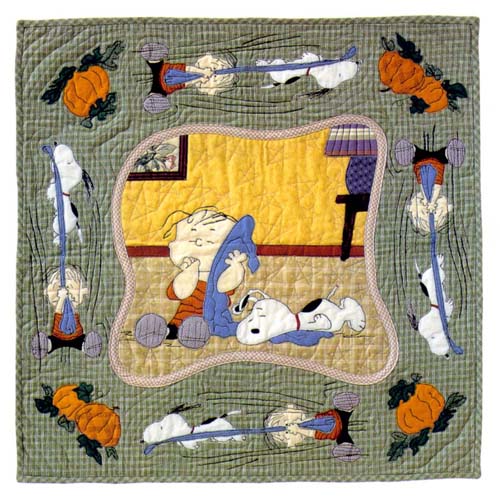 Tomorrow, Steve and I are going to the member's preview of the amazing new DeYoung museum. There is an Andy Goldsworthy installation that I can't wait to see.
Now, I must get organized to do my postcard demo.