Saturday: Steve bought us a wireless router so that I can use my laptop at home. I also got my two Macs to communicate wirelessly. So cool!
In the afternoon, I demonstrated making postcards at the Charles Schulz museum. The Japanese Snoopy-themed quilts are just wonderful. Many of them are quite large and many used traditional Japanese textiles. No photograohy was allowed so I have nothing to show. We had quite a bit of interest in our work. One person was demonstrating free-motion quilting, one was piecing a traditional quilt and two were hand-quilting. Here are the post cards I made in the three hours that I was there:
The top one shows how I use orphan blocks. It is a leftover block from my "Ode to Zinfandel" quilt or "Zin is red, Zin is Red, Zin is Red". The second one shows how I fussy cut things from commercial fabrics and collage with other fabrics.
The top one of these two has hand-dyed base and scans of actual leaves printed on organza fused to the base. The second one is a collage of vintage Japanese textiles.
Sunday: What a day to head to San Francisco. There was a Columbus Day Parade; it was Fleet Week and the Blue Angels were flying over the Golden Gate Bridge and the city; there was a golf tournament which Tiger Woods won and it was a gorgeous, clear balmy day and Golden Gate Park was packed. We had tickets for previewing the de Young at 3 pm. We made it. It is a wonderful copper clad modern structure that will turn green as it ages. On the tippy top is a tower with windows all around where you can see quite far. We hope to get up there in time to watch the Blue Angels, but were a little late.
The interior of the museum is spacious and wonderful – what can I say. There was art everywhere. The crowd was huge, but it never seemed uncomfortable. This is important – there are lots of huge bathrooms – no lines!! I was disappointed that the Textile gallery was not open as they are preparing for a special exhibit to open on the 15th.
The entrance is where Andy Goldsworthy has done an installation called "Fissure" – think earthquake. It consists of huge rocks on a base of stone tiles. A crack runs from boulder to boulder through the tiles – a very organic crack. I just love how he does these works! I forgot my camera but here are stock photos.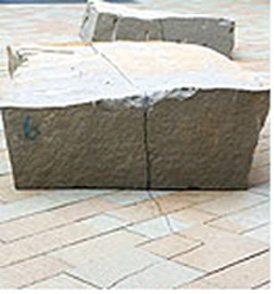 Here is a photo of the installation: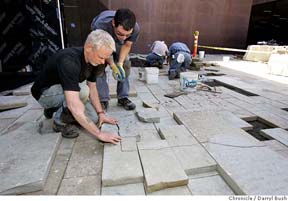 If you haven't watched it, you must see Rivers and Tides, the documentary film about his work. I could watch it over and over.
I must get myself organized for PIQF workshops, quilt retreat the following week and a workshop with Louisa Smith at guild.