Yesterday was the last meeting of the year for my quilt guild. I have been president for the last year. So even though I was feeling lousy, I pulled myself together and made it to the meeting. I knew that there was some conspiring going on because during the last two or three months, I have been asked to step out for a few minutes during the general meeting. I jokingly said I was happy to have a cigarette break. Well, yesterday I found out what they were up to. What do you give a president who is also an art quilter – embellishments: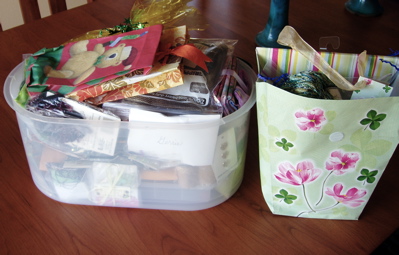 I brought these containers home with me, but frankly, I was feeling so miserable that I couldn't imagine enjoying myself by looking at what was in the boxes. I had a fever and coughing that hurt. I called Kaiser and talked to an advise nurse who called my Dr. who called me and said get in here. I am prone to getting asthma when I get a bronchial infection. So I came home with inhalers and cough syrup with codeine and crawled in to bed.
Steve picked up some food to get me through the week-end because he left at 4:30 am today to go to Kansas City with some other people to interview a candidate for the new bishop of our Episcopal diocese. So I am on my own. The worst part is walking the dog in the cold and then the garbage disposal got a clog and so I have a sink of yucky coffee grounds. Sometimes I can fix this, but this time it won't budge so I think it will sit there until Monday when Stevie gets home unless I feel a whole lot better.
I digress! This morning I finally unpacked the packages to this array:
There were beads, buttons and old jewelry: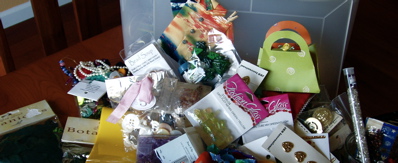 There were embellishments galore, even yellow plastic warning tape!!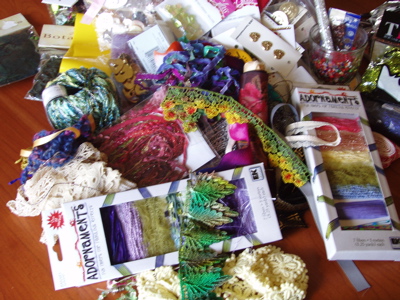 And fabric and a LIME GREEN COFFEE CUP: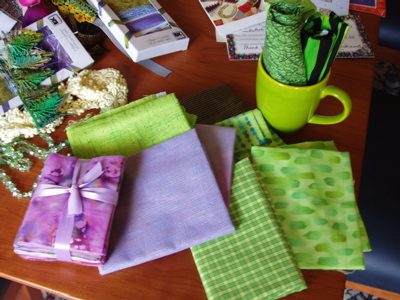 Notice in the bottom left corner – the lime green crystal necklace – that belonged to the mother of one of my friends. She said that I can wear it or take it apart and use it on a quilt!
There were also cards with lovely sentiments and 3 gift certificates. Two are for $25 each at local quilt stores and the third is for $50 at Fire Mountain, the on-line bead store.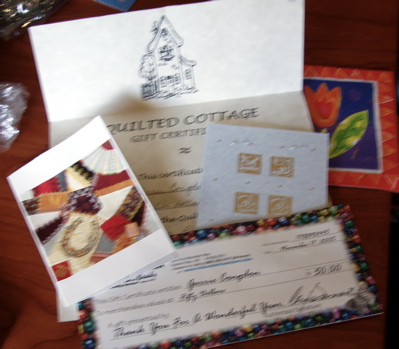 It almost seems wrong that I get all this stuff when the members do all the work. I just do the herding. I was so happy when our community quilts chair announced that she was delivering enough quilts that day to reach 1000 for the year. She said that in the middle of the year I asked her if we could possibly donate 1000 this year and she thought I was crazy. But we did it. My motto is: Say it out loud, believe it and then do it!!
OK That's it. I'm going back to bed.