The week-end has been fantastic because for the first time in a long time, I am not on antibiotics and I don't feel as if I need them! I finished the last course last Thursday and my history has been that by the week-end, I have another sinus infection. I am hoping that I have finally beat this thing into submission!!
Secondly, we spent most of Saturday playing "Clean Sweep" in the garage. We had stuff in there that we moved in 5 years ago and have not looked at again. I also keep my messy art supplies there and they were in disarray. We made three piles:
keep, give away and throw away. Steve took a Jeep load to the dump. We have a huge pile to go to charity. Then we rearranged the stuff we need to keep. Our garage is not that big so it is important to make it look less cluttered for prospective buyers. It felt good to get one thing done. Now I need to do this with every closet in the house.
Today, I played. I decided that since I have sent fiber postcards all year in lieu of cards, I should make fiber Christmas Cards. So this is what I did. I made a template and cut batting: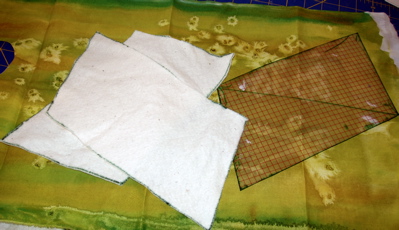 Then I wonderundered several green fabrics: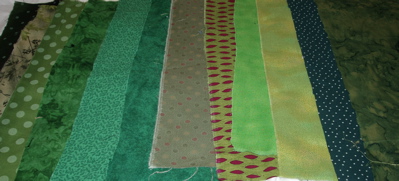 Then I cut wavy strips: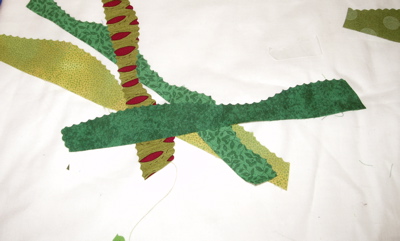 I layered the strips on the batting:
I quilted and couched sparkly yarns and ribbon: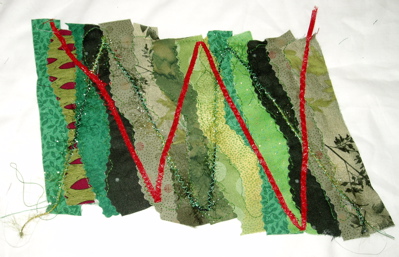 Next, I trimmed away the extra fabric and cut a diagonal line through the fabric and voila – two trees!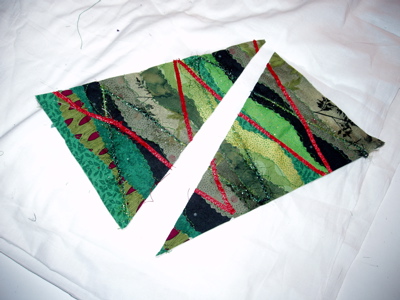 Then I cut backs:

I zig zagged the edges, glued some beads and added a ribbon tie: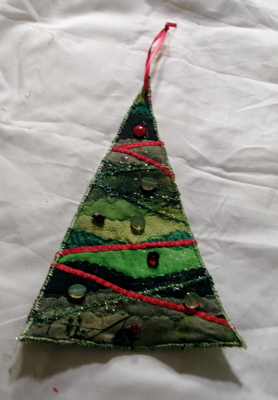 Add a greeting and signature to the back and it is done.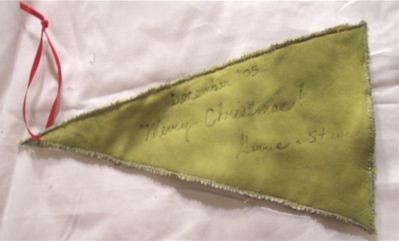 They will be sent in vellum envelopes along with our annual Christmas letter.