(Internetus interuptus: I started this post last night and our modem went dead!)
I was flying through the day yesterday with a mission – to make something creative for the guild board members and committee chairs. I am the post card queen – can I make 33 post cards in one day?
First, I must confess to getting a speeding ticket on my way home from the market to make dinner for Mr. C and Mark who had been laboring in the fields (our yard) all day. The cop said I was going 65 in a 55 zone and was passing cars. This is true. I do it all them time. I should have told him that I was in a rush because I was making 33 fiber postcards for my quilt guild – maybe he would have let me off. Traffic school, here I come!
Anyway, I got home. After dinner I sped upstairs (no cop is going to slow me down) and finished 33 postcards by midnight. Here is how I did it.
First, you need a pile of pre-fused scraps, preferably acquired from Mrs. Mel, who has Delicious hand-dyed stuff.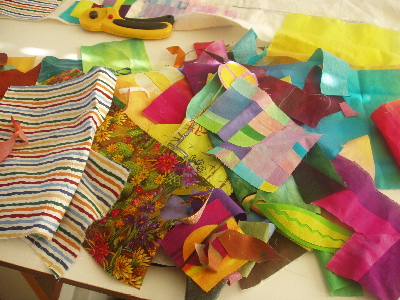 Next, I made a grid on a large scrap piece of batting, and started laying out my postcard designs.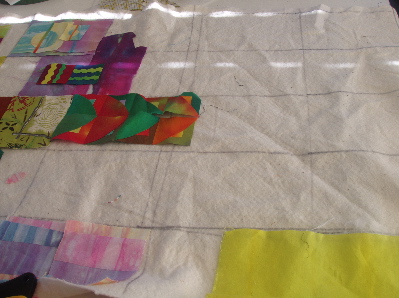 Here they are – all fused.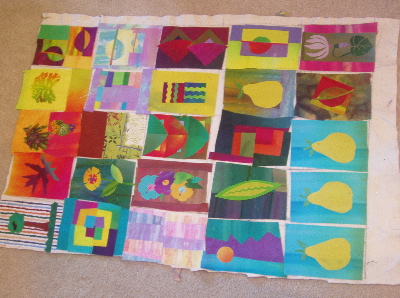 Next, I machine quilted them as a batch. This way, I could do several that needed the same thread color at the same time.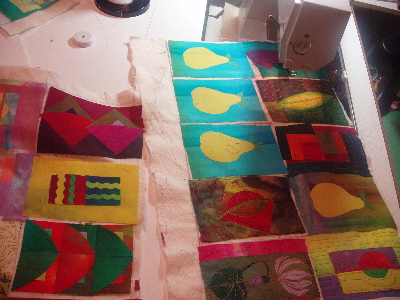 I then fused the back with more Underwonder and fused the whole piece to canvas. Then I rotary cut the post cards to size.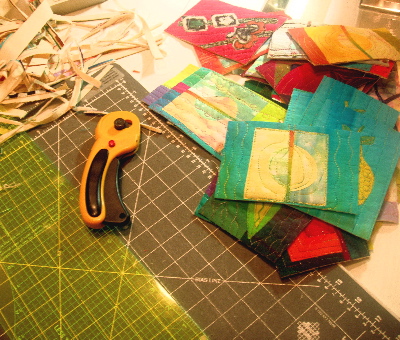 I then zigzagged the edges of each one and signed them.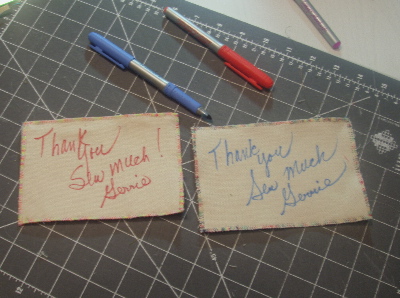 Voila!! Thirty-three postcards: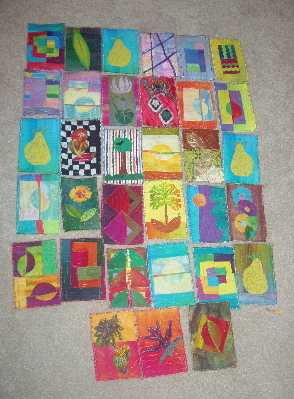 These are not museum quality, but they are quite wonderful. I tried to do a variety of styles to suit the different styles in the guild. I hope they like them. I had fun being the maniacal postcard maker.
I am off to guild to pass on the gavel and then my friends and I are going out to lunch to celebrate the end of my term.