Just a quick post to give a sneak peak of some of the work I have been doing. I am so tired. I must get to bed. Last night just as I was going to bed, I got the worst nosebleed after I used my nasal inhaler. As the Kaiser hand book says – it is messy, but not life threatening. It took until 3 am to get it to stop – three t-shirts later. The hand book said to call the doctor after 30 minutes, but I was determined to get it under control without going to the emergency room in the middle of the night.
So here is a photo of some postcards and wall hangings that I am finishing up. I thought I had to have work turned in for the Cathedral Art Show on Saturday, but it is next Saturday so Wheeee!, time to make more stuff and get to work on a fish quilt and start dying fabric for the commission piece.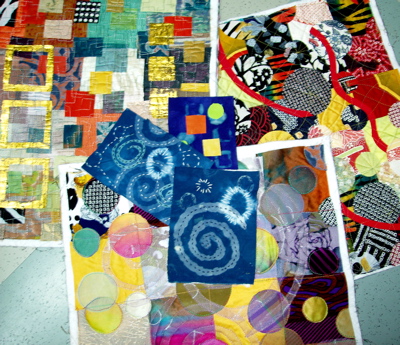 I am doing some hand stitching on the indigo blue art cloth postcards. I have finished machine quilting the three pieces in the back. I foiled a motif on one. I may do some beading on one, except that they are fused and that is hard to do. Maybe I will fuse some beads!!