It has been a happy and productive week-end around here. Friday, June, Terry and I had our monthly art date. The Art Train was spending the week-end in Milwaukie, near our home. The show was contemporary art by native Americans from all over the country. Some of the art was very provocative and some was very funny, but a recurring theme was the conflict that native Americans have living in two cultures and especially the hijacking and misuse of their culture. I really enjoy my time with these two women. We sat for over an hour at Starbucks and just talked. But I had to get home because….
M & M came by to spend the night with us. Steph and Jack got to have a couple's evening. Here they are in the morning drawing pictures with Grandpa: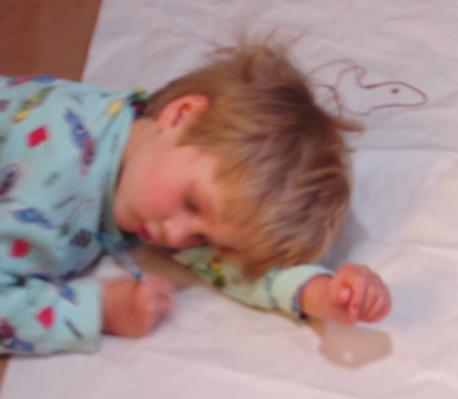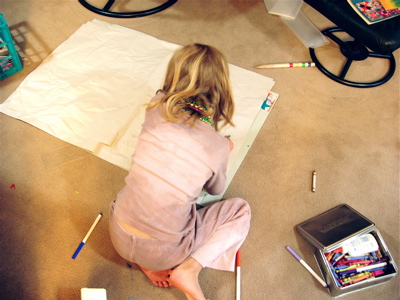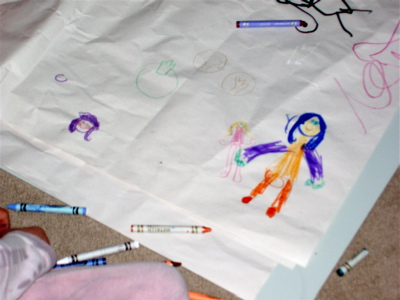 Mia thought Maggie would look good in the mardi gras beads: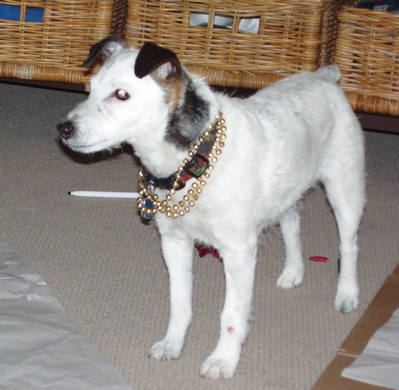 We also made pom pom and pipe cleaner stuff, but I neglected to get photos.
After they left, I got to work on fusing fabric. Look at the tables that Steve built for me: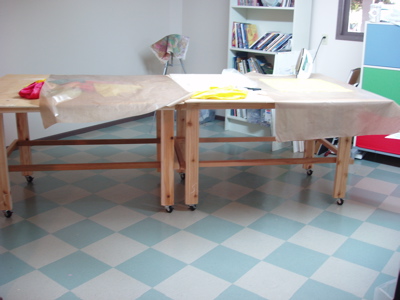 Each one is about 4 ft. X 4 ft. One will be an ironing table and the other will be a screen-printing table (and other surface design stuff.) For now they are clamped together so that I have a large surface for working on the liturgical piece. They are on casters so that I can roll them around.
I got all the silk fused with Misty-fuse. It comes like this and is light as a feather: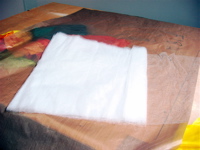 I also purchased a huge sheet of Teflon to use for the fusing. I put half on the bottom. Then the piece of silk with the Misty-fuse cut to fit and another sheet of Teflon. It fuses at a fairly low temperature and rather quickly.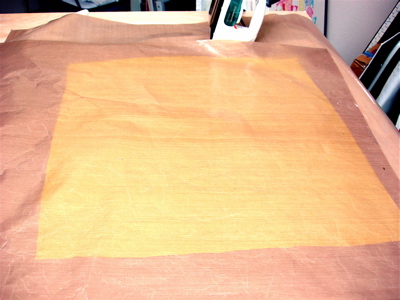 After the Teflon cools, pull it back to reveal the fused silk which is lovely. The Misty-fuse hardly changes the hand of the silk.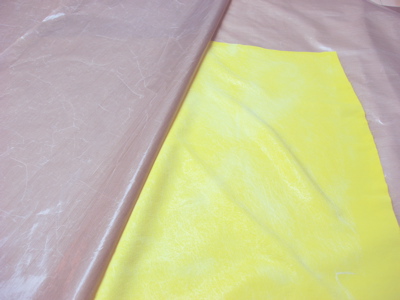 Today, I shortened the red draperies that used to be in our living room for Mr. C's office. They look great with his red and black theme. Tonight I cut and sewed the background for the liturgical piece. Tomorrow, I will draw out a basic grid and start cutting the silk into 3 1/2 inch squares. We had thunder storms and rain tonight, and I think it will be rainy all week, but I need to be working in the studio anyway. I hope I have something cool to post tomorrow night.