Mr C and I have been sneaking out of the house to look at new sofas. It is not that we don't still love the old one. It has been part of our lives for 12 years. It was custom made for us with raw silk upholstery. It was big and stocky to fit in to a room with cathedral ceilings. The cushions are down filled and you can sink in to it and fall asleep or curl up and read a book or the morning newspaper. But we have moved on and that sofa just doesn't fit in our Portland ranch.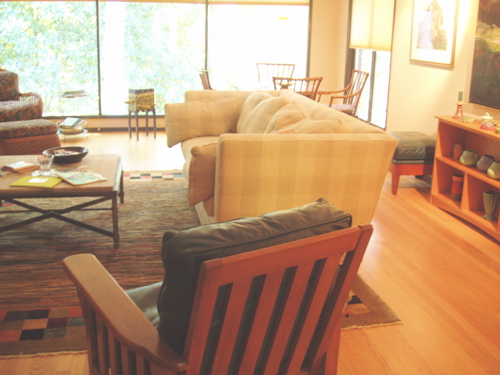 Last month we found a sleek modern sofa with a wonderful gentle curve along the front. We waited until last week when the store was having a 15% off sale. We parked in front of another modern furniture store in the Pearl and decided to check out the furniture there. PH Reed is the Portland dealer for Della Robbia furniture, known for their fabulous fabrics. I saw a sofa that made my heart go pitty pat. It was a floor sample that was priced 40% off retail. David gave us two of the pillows to take home to check for colors, but I knew that sofa was coming home to live with me. We stopped at the other store just to cover our bases and brought home some fabric samples, but there was no contest.
Today, the Della Robbia Logan sofa came to reside in our living room: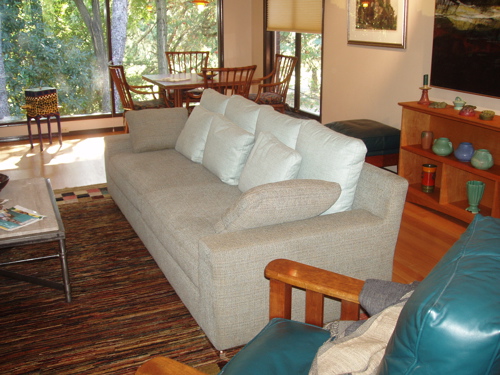 Here is a close-up of the upholstery which is sort of teal/gold/beige tweed and the lighter cushions are a pale aqua/brown tweed.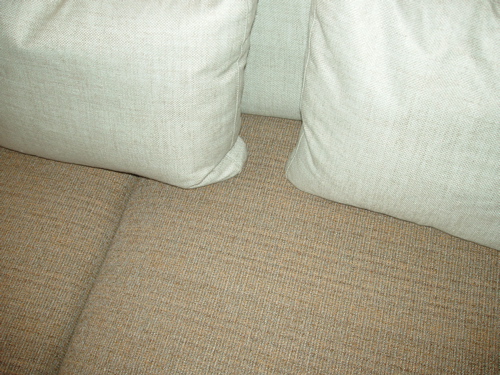 Look how well it goes with the teal leather in our chairs and the carpet: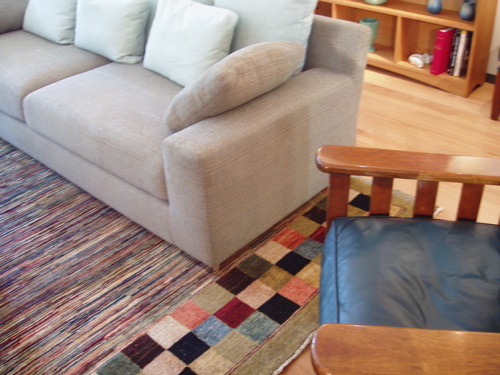 So, the old sofa is coming down to my office where I can take power naps and do hand quilting in comfort.
I am still making postcards. I hope to finish them tomorrow and get back to my other quilting.
Oh, check out my daughter, Lisa's, new website that just went live.