Last night I finished hand stitching post cards and satin stitched the backs. Making postcards, for me, is like trying to eat just one potato chip. Once I start, I can't stop!
A scanner darkly is not just the name of a movie. It is what I am calling my HP scanner. I don't know what it wrong, but usually, I scan my postcards and get wonderful, clear images. Last night, I was scanning and fiddling and finally gave up and went to bed. Got up this morning and velcroed them to my design wall and took photos with the tripod. So here is the final batch, which, with those left from last fall that I didn't sell at the Trinity Art show, will make 25 to send to Fiber Art for a Cause. There is a link over there on the left, if you would like to see a sampling of the cards which will be sold at the Houston International Quilt Show as an American Cancer Fundraiser.
SECRET GARDEN: This series was somewhat of a bust. I ended up with two. I collaged floral fabrics and machine stitched vines, etc and then put a fence in front.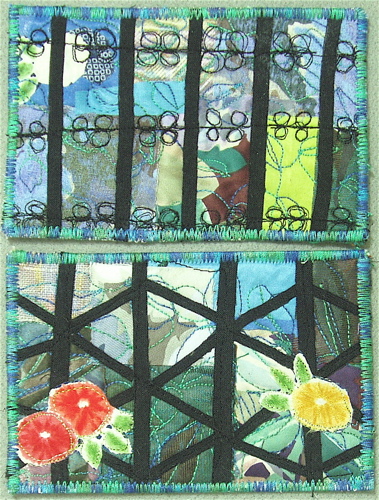 SQUARE DANCE: This series is based on the small art quilt that I have been fiddling with. I collaged squares of silk fabric. Stitched. Then foiled square motifs to the fronts.
EUFLORIA: This series makes me so happy. I used a commercial floral fabric and batiks. I did lots of hand stitching with Perle cotton and added some beads.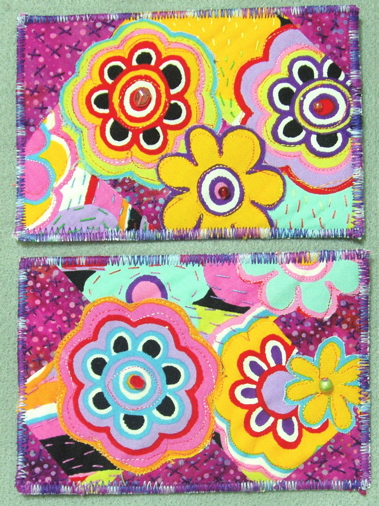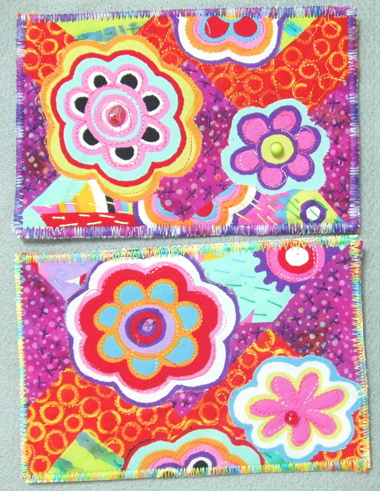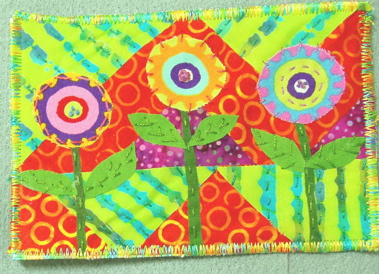 These will be in the mail today, Virginia!!
Now, I must get ready for a girls only date with Mia and Stephanie. Miles and Mr C will hang out while we take Mia for a little fling before she goes back to school next week.