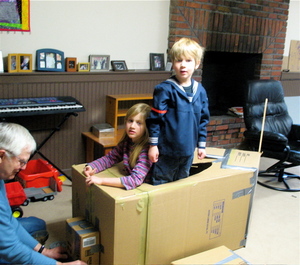 M and M were here for a couple of days so that their Mom and Dad could have a romantic get away. I haven't done much other than entertaining the kids and preparing kid food. Mia and I spent some time at Stars, an antique and collectible store in Westmoreland. She picked out some great stuff for her mom, Miles and herself. I didn't get any pictures before it all went home with them. She has a great eye for the bargains and good design. Her mom says she has had seven years of training. She also made me several wonderful drawings with a Valentine theme.
Miles arrived wearing his sailor shirt (from Aunt Lisa) and declared that he wanted to make a boat. Of course, the imaginative Mr C and super granddad granted his wish. The picture above is the work in progress. It has an engine with a propeller in the back and a couple of flags. During the week-end, we watched a Sesame Street show where they were making a boat and the Muppet's kept saying "I Love This Boat." So that became Miles mantra as the week-end progressed.
I love Grandchildren.