This morning Mr C and I went out to the AAA to get new passport photos taken. We just realized that ours have expired. It is a photo that I will not be posting on my blog! It is quite sobering to see your passport photos, separated by 10 years, side by side.
This afternoon, I finished working on the latest Round Robin piece. I think those of you who know me can understand why this was a very difficult piece for me. I don't do fairies and butterflies, as a rule. I have nothing against them; I just like the more abstract images in my work. Mia loved this and would have liked to have it for herself.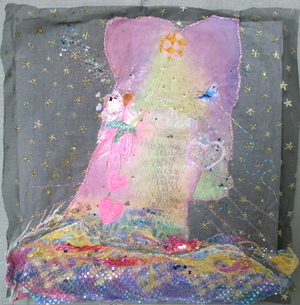 I had some pink Angelina fibers that I had used for the Valentine's card so I dressed the fairy and added some hearts and fairy dust and did some stitching on it. Part of participating in a Round Robin like this is being sensitive to other's tastes and yet adding a bit of yourself.
I have also been finishing up the images for my website. I am getting close to a launch date. At that time, my blog will become part of my website and I am moving to WordPress. I hope I won't regret this.