I am back at work on the Fragment's piece. I decided that it needed a little more embellishment so I thought I would monoprint some more circles directly on the piece. Here it is with the quilting I have done so far.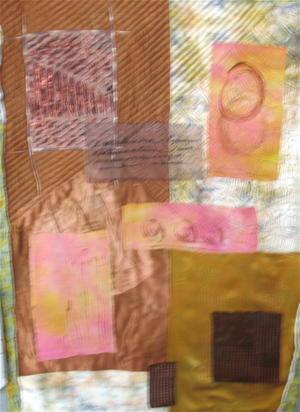 Here is a closeup of the quilting, so far. Sorry, it is sort of blurry. The bottom of the quilt still needs quilting, but I wanted to figure out the additional design elements before I do the quilting.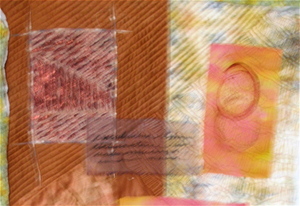 Here is how I do the monoprints. Paint what ever motif, in this case the circles, on a plastic document holder.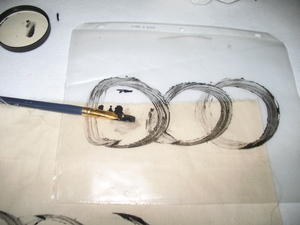 This is then inverted, paint side down, on to the fabric. Pat it and smooth it, to transfer the image. Here it is on muslin.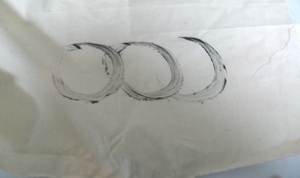 So, I got brave and printed directly on the quilt.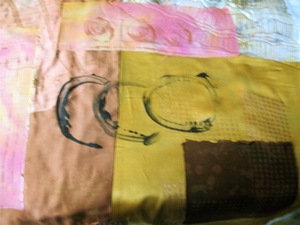 Oops! That didn't turn out quite like I wanted. I then used some copper paint and monoprinted over the black to tone it down.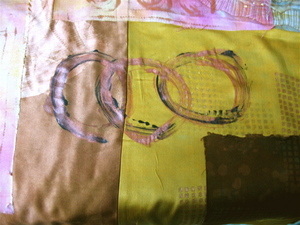 I now need to collage something over it so I auditioned a couple of ideas. This some gauzy metallic material that I have a big roll of and have been wanting to use in some way.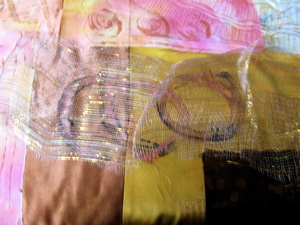 This a fragment of the fake writing screen print I made a while ago.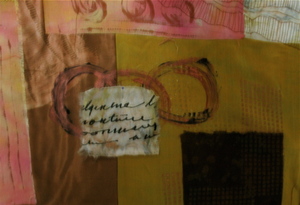 I think I like that best. I am still having some angst over this piece. It is going to be hard to photograph because of the silks and metallics. It is very organic with lots of rough edges. This afternoon I about gave it up, but I am going to keep working on it because it is a learning experience, if nothing else.