Today was a beautiful day in Portland. Terry, June and I had an art date. We went to the Interstate Firehouse Community Center to check out the Columbia Stitchery Guild Show. Terry and I both had two pieces in the show. It was hung very nicely, but the lighting was atrocious. June explained that the lighting was for canvases and so the spots slanting down just made a glare in the center and shadows around the edges. Most of the quilts had droops and bulges because of the hanging.
I took some photos of my favorite quilts. These are clickable to see it larger.
The third quilt is Terry's. The fourth quilt is a painted canvas background with Perle cotton stitching in lots of areas. The last two quilts are done by the same person, Bonnie Buchman. I love her work.
We then proceeded to Alberta Street for lunch and to check out some of the shops. We had lunch at a Southern sort of New Orleans restaurant and had pulled pork sandwiches and shared some bread pudding and a lemon tart. We dined al fresco and it was wonderful.
We stopped in at Bolt – a really nice fabric shop and Terry and I each picked up some fabric. At the Latin Arts store, I couldn't resist this purse from Peru.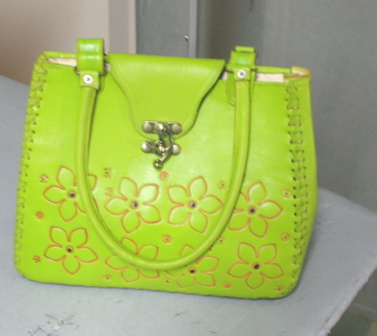 Here is my thread doodle for the day. Don't look too closely at that stitching. I did it after dinner and a couple of glasses of wine.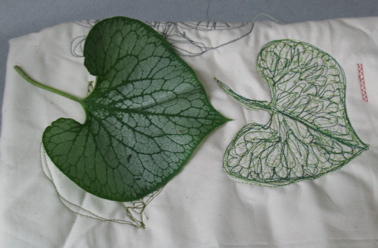 Tomorrow, Mr C and I are heading to Eugene. Sonji Hunt has a show opening at the Maude Kerns Art Center, titled Geometrics. We are also going to spend some time with Kristin's mom and step-dad who live in Eugene. It should be a good time.
I am supposed to have wifi in the hotel so I will check in from there and perhaps some photos with the superfantastic Sonji.