…as Sonji would say! We arrived in Eugene late in the afternoon, having stopped at the Woodburn outlets so that Mr C could get some new casual duds. Kristin's mom picked us up at the motel to attend the opening of Sonji's show at the Maude Kerns Art Center, titled Geometrics. Here is the delightful old building exterior.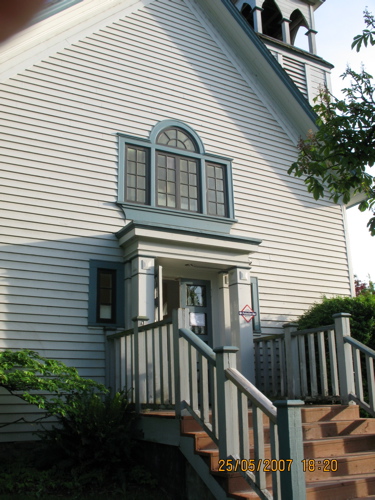 We were walking up to the entrance when I saw Sonji approaching from the other direction. She recognized who I was right away which was quite exciting. Here are some photos of the show and reception:
Sonji talking — something she does well! She is wearing an adorable apron which she was hoping to keep.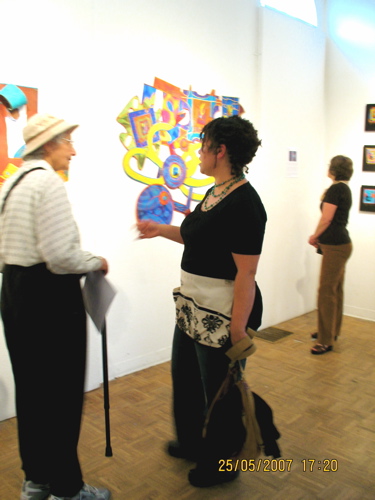 Kristin's mom, Sherrill.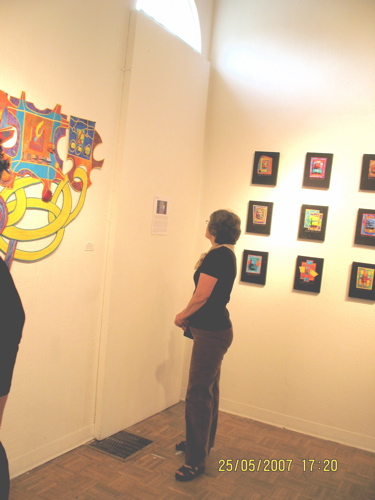 Several views of Sonji's work which Mr C described as clever. It is really so much fun to see up close. All the painting and stitching details and the bundles, oh my. These are clickable to see larger views. I loved the little red circles with grommets which led you through the pieces.
Here is a wall of bundle pieces. I own one of her bundle pieces, but seeing all the different ways that she has constructed and presented these bundles was wonderful.
Here is a closeup of the Stilt House with bundles.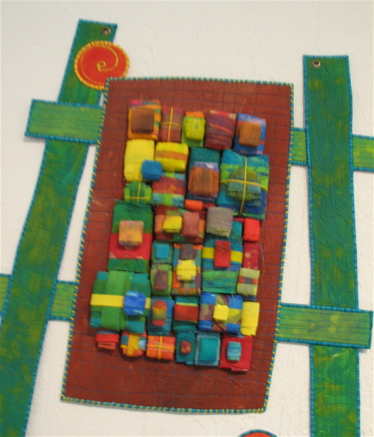 On the stage Sonji had placed one piece and because there was so much empty space, she asked to paint the wall.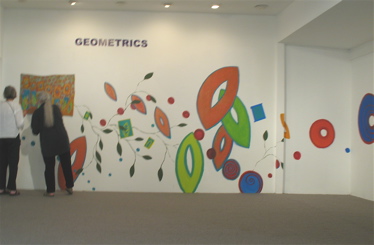 It was not finished to her satisfaction, so she was still painting, hence, the apron.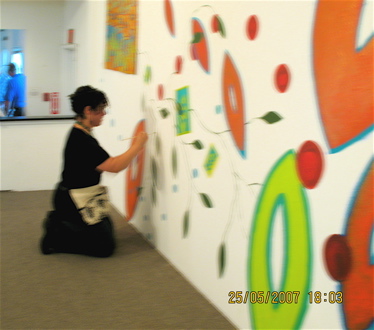 Here is Ginger of Gingerfied, the gallery director and Kristin's mom, again. I was so surprised when I saw Ginger. She looks so much younger than her photo on her blog. It is hard to believe that she has grown children! It was great to finally meet her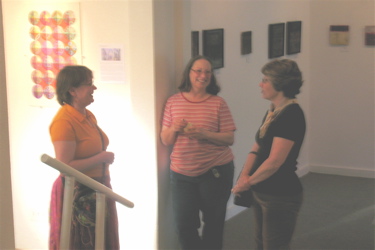 And last but not least, here is a photo of me with Sonji. I am so happy that I made the trip down to see her work and meet her in person. Sonji is just as much fun and full of charm and wit as her blog persona.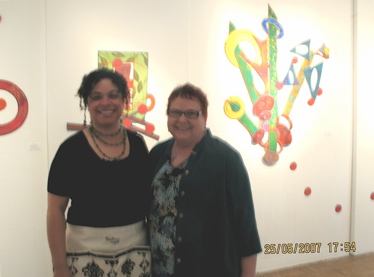 We had dinner with Sherrill and her husband and then got to tour their wonderful Arts and Crafts home in Eugene, just a couple of blocks from downtown. It is beautifully restored with wonderful built-ins and woodwork. I got to see two beautiful quilts made my Kristin.