Well. it wasn't really freaky, but I got your attention, didn't I. And thank you to everyone who left those lovely comments on my last post. I want to report that less TV and computer time is a good thing.
Yesterday was a good day. I spent the morning with the Stash group and Terry made us a delicious lunch. We had fun with some show and tell and discussing the Twyla Tharp book. This particular chapter discussed the possibility that our DNA is contributes to the way we work — do we see the large view or do we see things in detail. I have often wondered why I am not motivated to make large quilts with sweeping motifs. I love them, but don't want to do them. My commission quilt was large, but it had a repeating detailed image. I now have an excuse, it is my DNA that makes me do it.
Back at home, I did some quilting on the latest cruciform. Reva told me about a neighborhood guided walk with a mid-century modern theme, starting at 6 pm. So, Mr C and I put on our walking shoes and joined the throng of 50 – 60 people.
We started out at Reed College, where the original architecture is rather Ivy League Gothic. But many building constructed after the 1950's have a decided mid century modern look. Brick was added to many of the new buildings to help them blend with the other architecture.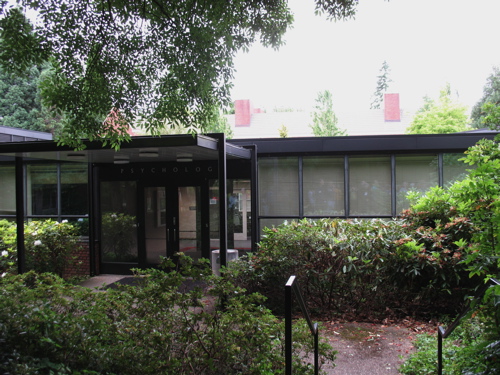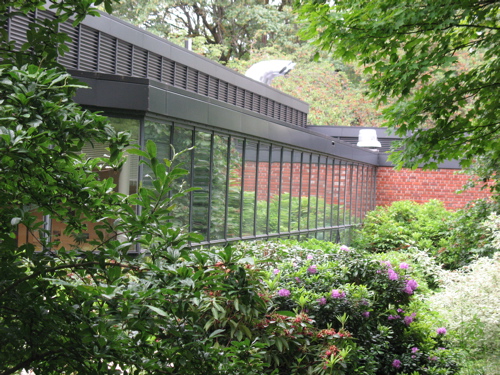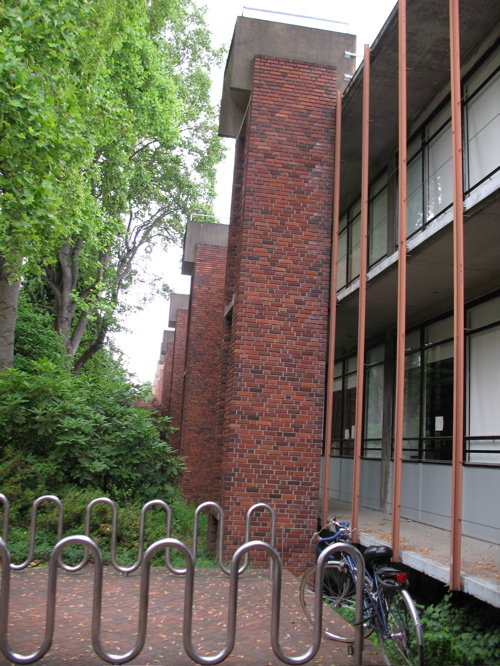 On the other side of Reed College is a development called Reedwood. Until the 1950's, this area was dairy farms and gardens — the last farms within the Portland city limits. The area was built differently than most of SE Portland. It has no sidewalks and most of the houses have pools. There are many styles of mid-century modern architecture. The Oregonian used to publish a house of the week with plans and encouraged good design. Here is one of the houses.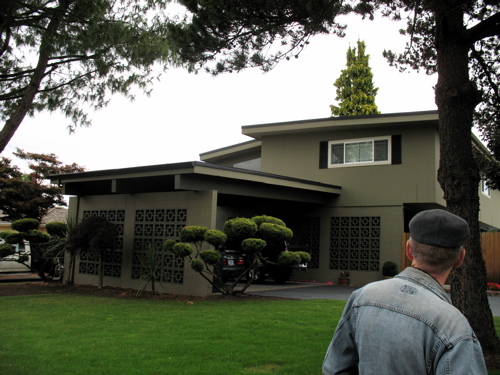 And a detail of the cement screen, that I love. Many of the homes were influenced by Japanese architecture and have Japanese style landscaping.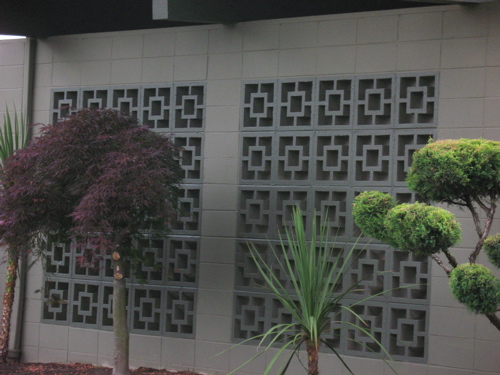 One of the homeowners invited us to her back yard which was a Japanese garden; she served drinks and snacks — very classy! Here are Reva and Jer.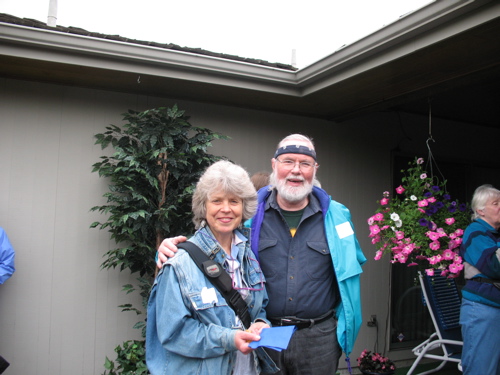 Today, I finished the latest cruciform and decided to make it asymmetrical. I also did the Sue Benner satin stitched edges with the corner threads.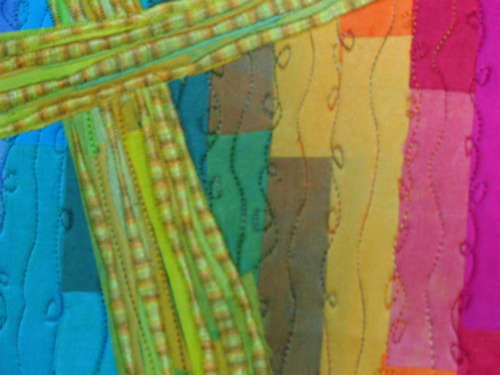 This afternoon I worked on postcards for a demo that I am doing for the Columbia Stitchery Guild artist's tea, tomorrow. I'll show pics tomorrow.
I found out today that my entries to the Lowell Art Quilts at the Brush Gallery did not get in, but one I am soon to own will be there — Village Series #2, by Kristin LaFlamme. Congrats to Kristin! Rayna, one of the jurors, said that there were hundreds of entries for 38 spots so I guess I am in good company. But, I am still bummed about it. On to the next show — or maybe not. Rayna said she had to recuse herself when she recognized work like mine so I will not hold her responsible. : )
Tonight, M & M are here. We had some fun playtime and bought them helmets to wear with their scooters, then went to Burgerville. They were really tired and went to sleep very quickly. When those two are around, I feel so blessed.