This morning when I was eating breakfast, I noticed that my yogurt was sort of lukewarm. I asked Mr C if his milk was warm. Yep! I got up and went to the fridge and took note that it felt quite warm for a refrigerator. I checked the freezer and it was hunky dory – everything was nice and frozen. Hmmm, what is going on. My first thought was that the lights were not going off. Checked that out – nope. I put a thermometer on the top shelf and it registered 72°, the same as the room temperature. This is not good,
Now, I am afraid to eat anything coming from the fridge, but I had already finished my yogurt and raspberries. Mr C got on the phone with a repairman — they can't come until Monday. June and Terry are arriving soon so I must leave the fridge problem and get on with my whirlwind day.
We had a great critique session. They each had two pieces so I felt like a slacker! This exercise, which we try to do monthly, has been a very enriching experience for me. I feel as if I have learned so much from Terry and June. After critique and some gossiping, we were off to have lunch and more gossiping and commiserating about our relationships with our progeny.
I walked home from lunch — about mile and a half and found Steph and M & M waiting for me — yeah — nice surprise. Steph wanted to do some errands sans children. While M & M played with their scooters in the front yard. I cooked up some chicken that I bought last night, hoping to salvage it. I began throwing out suspect stuff and took food to the garage fridge that can survive a few hours in warm temps without going bad — I hope. Of course, I should have done all this in the morning, oh well — C'est la vie!
Milo became more enthralled with the buttons and mechanisms on the scooter that make it fold up and move the mar up and down than with scooting.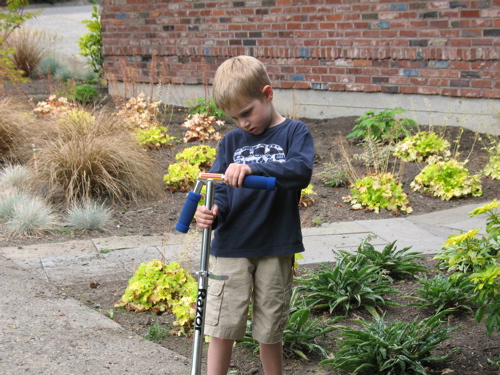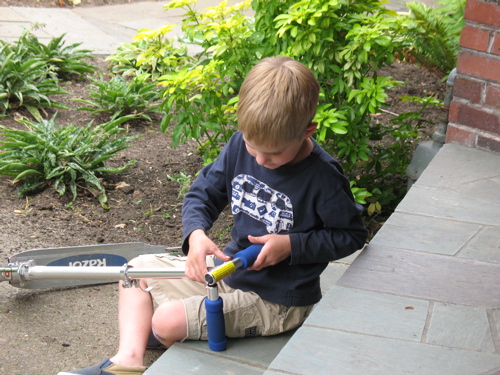 Mia, however, was sailing around the neighborhood.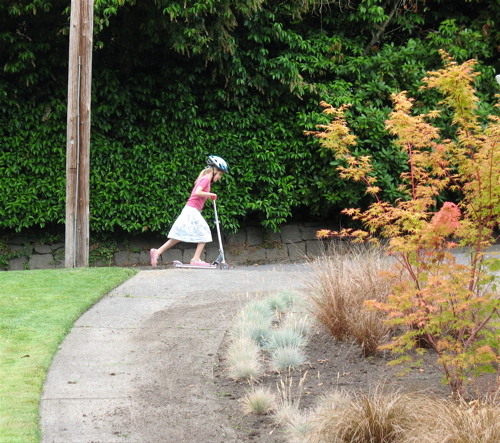 She stopped for a refreshing glass of ice water.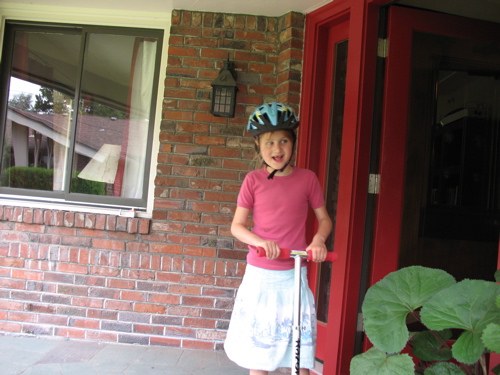 She set the glass on the porch and Maggie promptly picked it up and carried it off and drank the water and enjoyed the ice cubes. We had never seen her do anything like this before.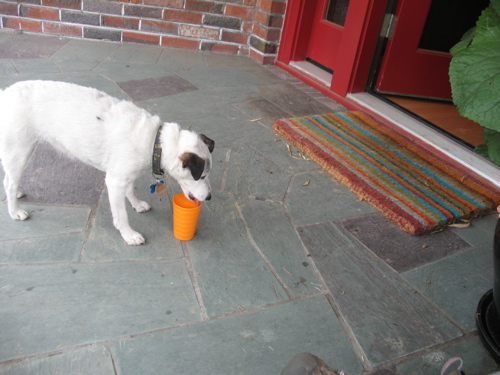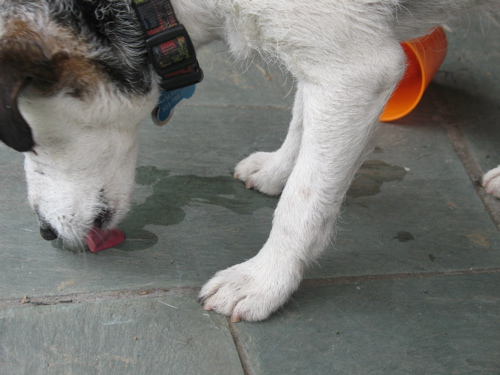 I took Kristin's advise and attempted to enlist M & M's help sorting my fused fabric scraps by color. This did not last long. But they found other ways to amuse themselves while I did the sorting. Here is my scrap rainbow. This is only the start of my sorting.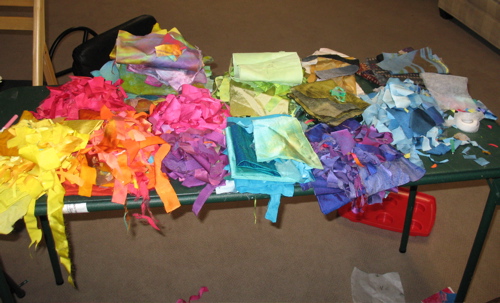 Steph and Jack showed up around 5ish and we all went out to dinner at Sticker's, the Asian restaurant near us that has a great medley of Asian food. I had chicken pot stickers and Vietnamese salad rolls.
Despite the global warming, it has been a very nice day.