I decided that I want to make another Bamboo Fence piece. I took the photo (in my previous post) of the fence that my son took at the garden and made a screen. It was not very successful. I did have great success printing it on silk. This is after posterizing it in Photoshop. You can see it here with the background fabric I am auditioning and the bamboo that will be used to construct a fence on the piece.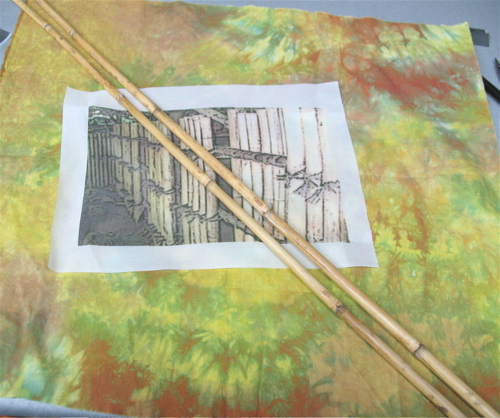 So I found another bamboo fence that I played with in Photoshop and made another thermofax screen. This is much more successful. You can see the screenprint in two different colors on the top. The unsuccessful screen is on the bottom.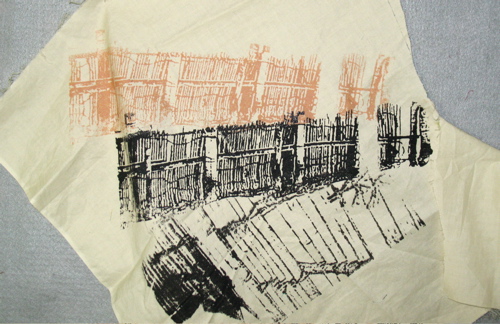 So I will use that on the back ground fabric with the photo collaged on top and construct a bamboo fence. Bamboo fence – 3 ways.
This morning while we were walking between the rain storms, I found a Ginkgo tree. I grabbed a little branch and brought it home. I taped the leaves to paper and scanned them.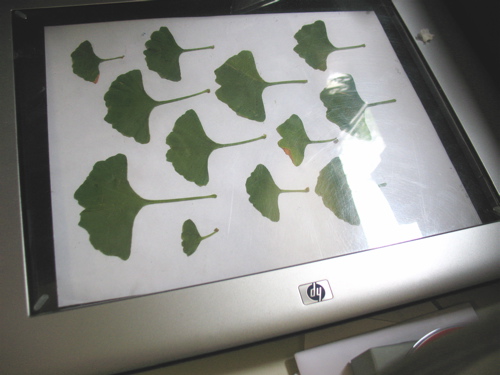 After playing with it in Photoshop, I had this image: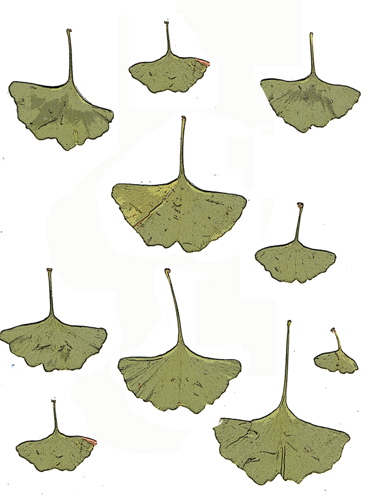 I made a screen with the thermofax and here are my screen printed leaves. I have an idea percolating in my brain for using this image for another piece.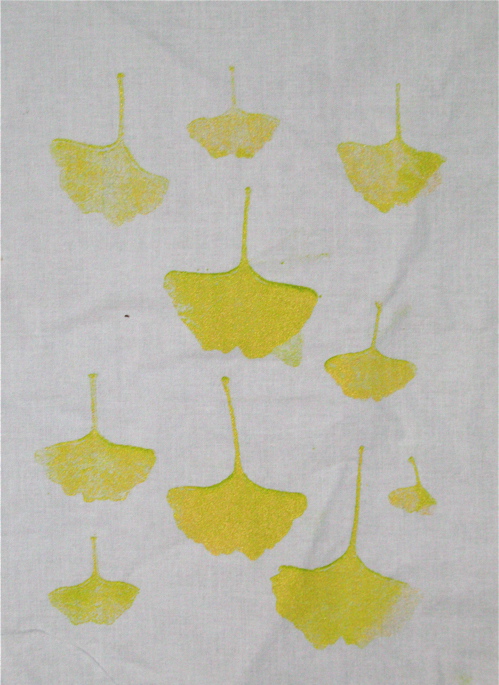 I hear that a lot of you are enjoying the wild rice salad recipe that I posted. Hi! Mary Lou in Massachusetts. She is the is the sister of my good friend Pat, in Santa Rosa. They are not only sisters; they are best friends. They talk to each other almost every day. They are both quilters and enjoy getting together for vacations. Anyway, Pat told me today, that she had talked to Mary Lou, who had made the salad and gave it her seal of approval. Now Pat is going to make it for her wine tasting group.
I had a great time with Mia yesterday. We shopped locally at the book store and toy store in Sellwood. Then she accompanied me on my shopping trip to Trader Joe's. She is great company. I am always so impressed when I introduce her to adult friends. She is very polite and talkative — a real charmer!