I love my fruits and vegetables, and some times, I like them together. Yesterday, the family came over for a barbecue and I made Judy's edamame and orange salad. Today, I had it with some teriyaki chicken, yum!
Last night, we had Hermiston seedless watermelon for dessert. I know that I have had a watermelon salad someplace this summer and it was good. So, I surfed through web looking for some recipes.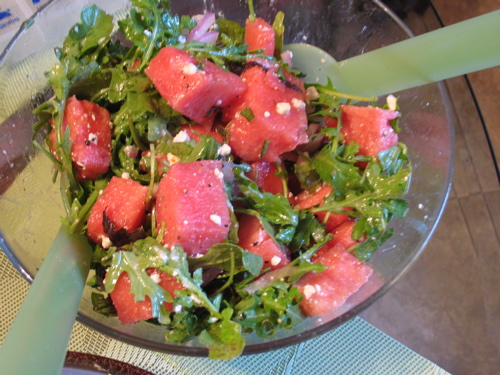 Using what I had on hand, here is my recipe. Seedless watermelon, chiffonade of basil, thinly sliced red onion, arugula, feta cheese, lemon juice, lime juice, olive oil, salt and pepper. It was delicious. Very fitting for a warm last day of summer.
Today, I tried to get some work done for my journal quilt which needs to be shipped to Houston, soon. I have the plan in my brain. I need to do at east 3 techniques from the Journal Quilt book. I am using some of my discharged fabric. I also want to print a photo on fabric and I will make a new thermofax screen for screening a design. I needed to print with my large Epson that prints extra large stuff. I needed to replace one of the 7 ink cartridges. The store where I have purchased them near me has closed. So after some phone calls, I found them at Compusa over in Tigard.
Mr C volunteered to come with me. We stopped and gassed up the car and ran it thorough a car wash. The headed across the river. I did not bring any directions with me. I just had an idea where the store was. Mr C calls this driving by feel — it makes him nuts!! But, my intuition worked and there it was!!
Anyway, I spent the rest of the afternoon working on printing something on paper that would be the right size and color for my piece. I did not have a lot of success. Now, I have to wait until we get back from our trip. I may have to go to idea # 2.
We are leaving in the morning for Woodinville, WA. I don't know if I will have Internet access, but I will remember my camera. We expect to enjoy some great food, do some wine tasting and get in lots of walking. We will have rain for our drive tomorrow, but it looks like it will clear up for the rest of our time.