Yesterday, while I was at the Japanese Garden, the mail arrived. Mr C didn't hear the mail carrier and so a slip of paper was left saying a package could not be delivered and could be picked up today at the post office. After a quick trip back to the Japanese Garden to take care of a couple of things, Mr C and I stopped to pick up the mysterious package which had come through customs.
I digress. I just want to say that the show at the Japanese Garden looks wonderful and the pavilion was full of folks when we got there. And a sale was in progress.
Back to the package. When I saw who it was from, I got really excited. Once home, I opened the package and found this lovely box.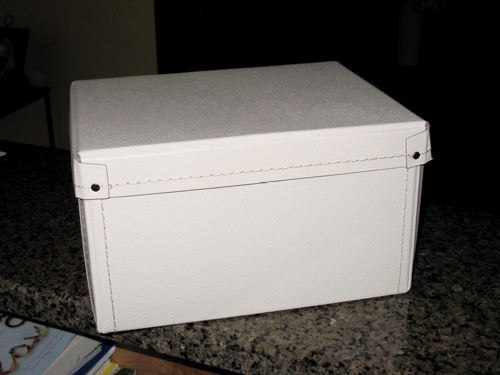 Inside, wrapped in tissue was the soft sculpture creche set that Kristin made for me. I set them up on the mantle right away. I wanted to get out my whole collection so that they could meet each other and have an early Christmas party — even if it was almost 90° today.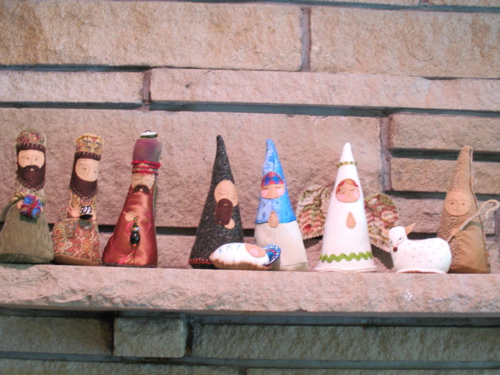 Each piece is so exquisite, with wonderful fabrics and embroidered features. Here they all are; you can click on them to see them larger.
Now, I have to finish an Aspen quilt for her. I hope I can make something as lovely as this.
Oh! And there was fabric, too! I am so in love with the hand-dyed cheese cloth — I can hardly stand it!!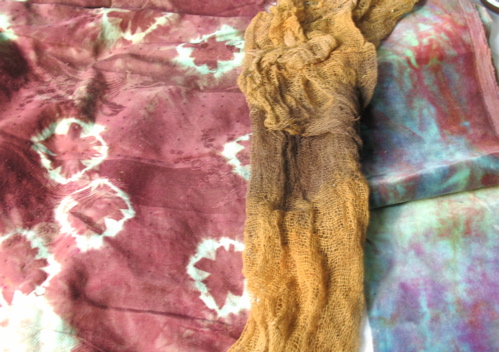 This afternoon I got back to work on the Journal Quilt. I am feeling less stressed and enjoying the process of putting this together, which is as it should be!!
I wasn't happy with the other screen that I made and so I selected a different photo of the Seattle Library grids and fiddled with it in Photoshop.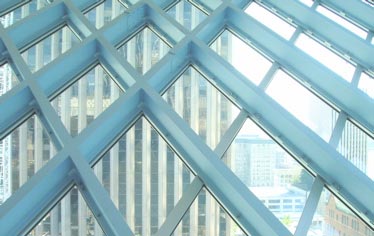 Here are a couple of prints that I made using brass paint. The top is on a hand-dyed cotton and the bottom is on gold metal mesh. This photo is a little blurry, but you can see that it is a much better print.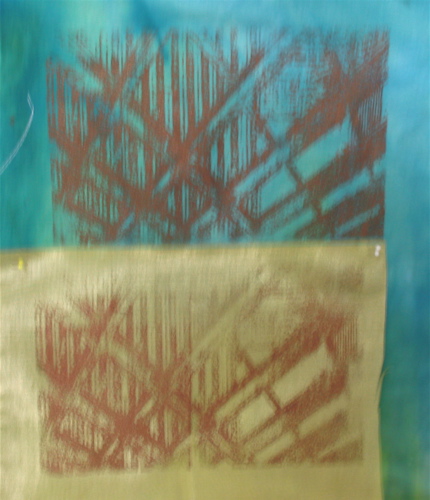 I don't know which will work in the jq.
Tomorrow is Columbia Stitchery Guild meeting. Larkin Van Horn is our guest speaker. I can't wait to meet her.