I have been asked to send a photo of myself in my studio along with my piece for the PAQASouth Art Quilts Culture exhibit. I put my camera in the tripod and set the timer and got some photos of myself at my sewing machine. You get to vote for your favorite.
This is my favorite.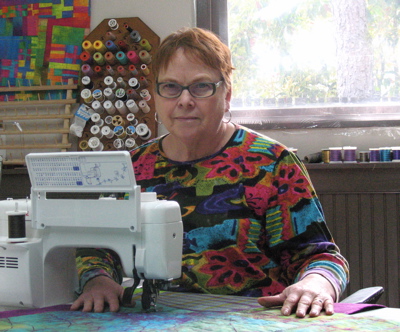 This one has a bit of a smile.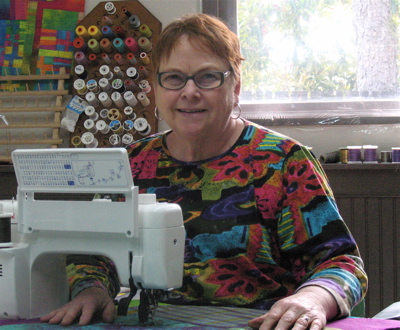 And this one is quite goofy, I think. Who sits at their sewing machine with a goofy grin like that?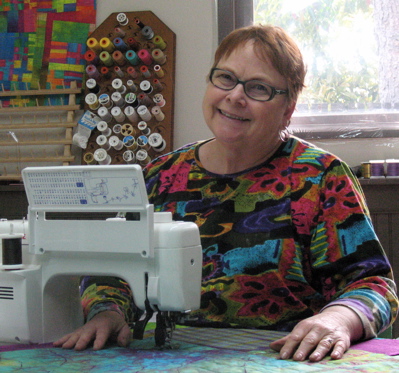 I had a lot of face time with M & M this week-end. The whole family came for dinner on Friday night. Last night, they came and spent the night so that Steph could hear her BFF Tift Merritt sing at the Doug Fir Lounge. Tift was her maid of honor when she and Jack got married in NC.
I also spent some time looking at tiles and bathroom fixtures. I am going in a whole new direction with the tiles. This is a photo of the bathroom tiles that I took at the new Museum of Contemporary Crafts. It turns out that this was designed by Kelly at the tile store. It uses the large rectangle tiles with this complementary linear mosaic. It turns out that they can put together a mosaic like this with almost any colors you want. So, I am in the process of selecting colors so that they can make me a sample. I have a very cool idea for how to use it in our renovation without costing us way too much.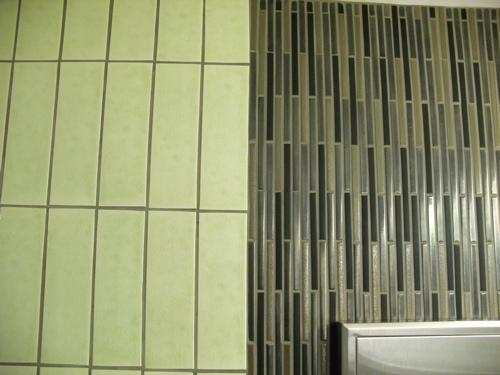 We had a couple of days of really warm and sunny weather. I was almost not ready for it to get so hot so fast. I have really become an Oregonian. Not to fear, I think we get snow flurries on Tuesday.