My regime of stretches, icing the bum, ibuprofen and short walks seems to be working. Last night, I was not awakened by pain in my leg, but by a horrendous clap of thunder. I went back to sleep, ignoring the storm, and felt refreshed from my first good night's sleep in some time. Mr doc ordered vicodin for me, but I don't think I will even pick it up.
Look at who else is feeling much better. She is checking out the bathroom reno with me, after the tile man left for the day. She is still on antibiotics and pain meds, but she is returning to her normal self. We went for a short walk this afternoon and she was leading the way.
The first coat of paint is on the wall. In that right hand corner will be one of our custom built storage units. Behind Maggie, there will be another built in with drawers below and shelves above and a beautiful granite counter.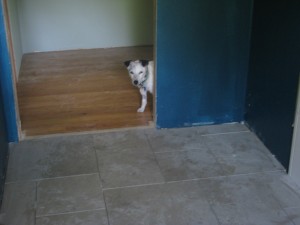 Here is another view of the extra large subway tile and the floor. No grouting has been done and there is some tape holding the tile in place. The sinks will go on the wall on the left and the shower is on the right, out of site. The shower pan will be installed on Monday, and then they will start on the mosaic that I designed.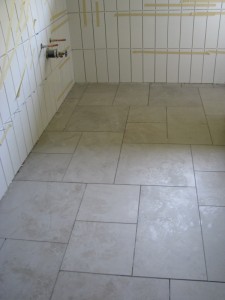 This morning, Stephanie dropped off two of my fave people in the world. Here they are having lunch on the deck.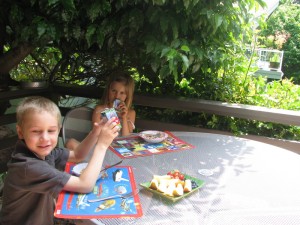 In the morning, we went to the Dollar Tree. I needed to buy some storage bins for my art tools.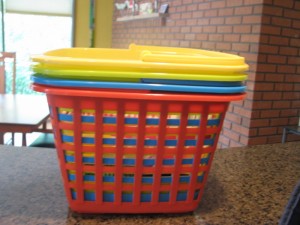 Miles bought some pirate stuff. There is a ring on his other ear. He looks quite fierce. Mia bought colored pens, pencils and another journal – what else.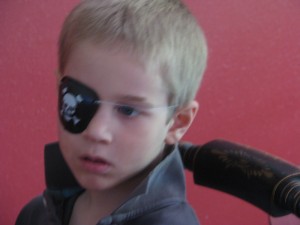 And, we bought every kind of bubble paraphernalia you can imagine.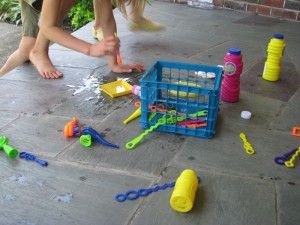 And so, the annual bubble fest ensued.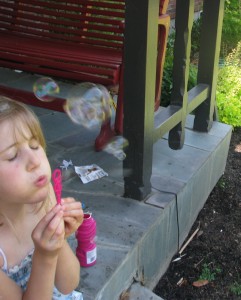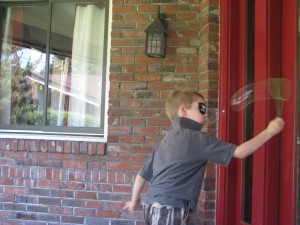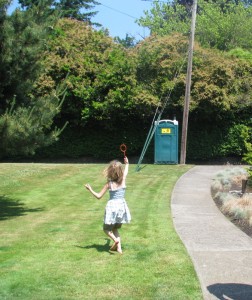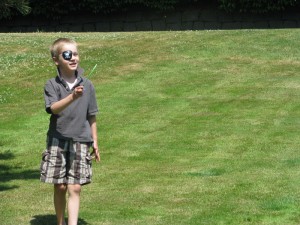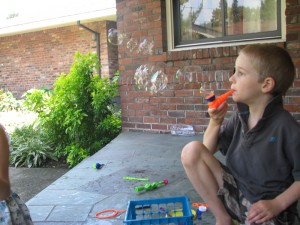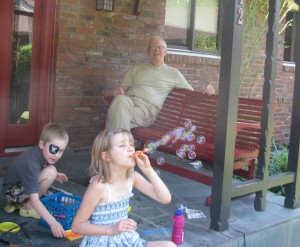 Where did all the bubbles go?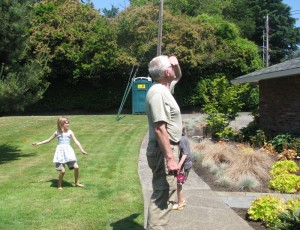 Poor Maggie. There is nothing she loves more than chasing bubbles and jumping in the air and popping them. I made her stay in the house because I didn't think it was a good activity so soon after her oral surgery. JR's do not know their limitations, so I had to play the alpha dog.
Tonight, we had dinner at Burgerville. Everyone ate every thing on their plates. After dinner, Mia and I watched the Ace of Cakes on the Food Network — one of her favorite shows. Miles and Mr C started building the Great Lego Wall on the front porch.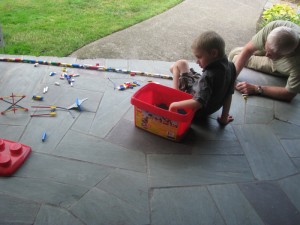 Tomorrow, the Portland Clan will gather for a BBQ and then watch fireworks.
Happy Fourth of July!