I met Judy at the Seattle airport. I didn't have much traffic until I got to Tacoma and then it was creepy crawling all the way to the airport. I had about 15 minutes to spare before Judy got off the plane. We recognized each other right away.
We drove up I-5 through Seattle to catch the ferry to Whidbey Island.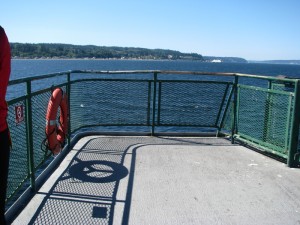 Here is Judy photographing the view. It was very windy.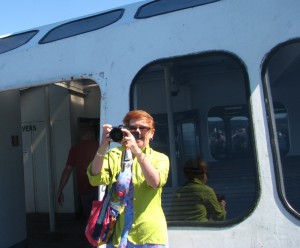 I think this is Mt. Olympus from the ferry.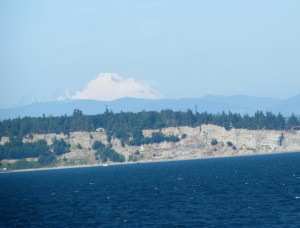 We drove about 25 miles from the ferry to Coupeville and found our delightful home for the week. We are right on Penn Cove, famous for it's mussels. In fact we had many with our dinner. We shared an appetizer of mussels and then we had this fabulous pesto encrusted halibut on mussel risotto. Oh my goodness, yum!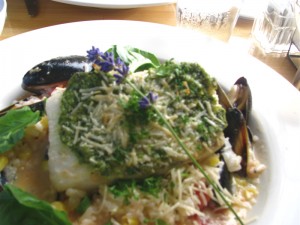 Judy and i have been blogging and e-mailing for quite awhile. We are now talking and talking. We have so much in common. I am so excited because she brought me one of her Complexitees. It is gorgeous. I can't wait to wear it. I will post a photo later. We are quite tired from our day and excited about our workshop tomorrow.