What, you say? More about that later. First things first. Breakfast at Coupe de Villa appears mysteriously on our porch every morning at about 7:30. Here is today's offering — Charlotte's version of the egg McMuffin.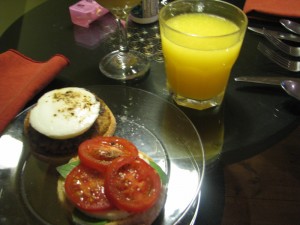 After arriving at the Arts Center, I added a teal background to my second leaf piece. I tried to mix up a light shade, but as you can see, it was a little dark. Still, I am much happier with this piece. It is done on shantung organza.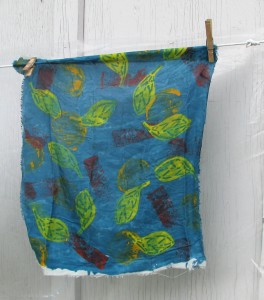 I also stenciled the next two layers for the pomegranates.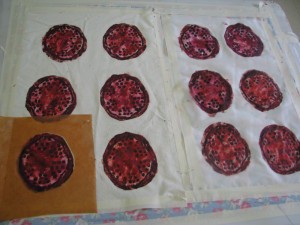 For the large stencil, I stamped with a sponge around the edges, using a turkey red. In the centers, I sponged lighter shades of raspberry and raspberry mixed with poppy red.
Then, Akemi demonstrated the tsutsugaki. This is a tsutsu, a cone made from traditional Japanese stencil paper. It is soaked in water and a metal tip is inserted.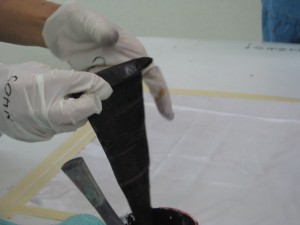 Then it is filled with color rice paste and used like a cake decorating tube.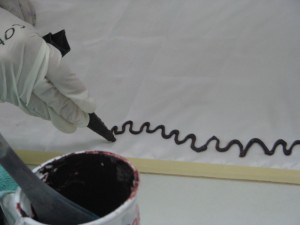 I made these aspen trees with a tsutsu. I then stamped the trees with light gray.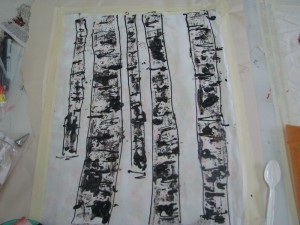 The next step was to cover the trees with uncolored paste so that I can preserve the white as part of the tree trunks. Then I was able to stamp the remaining background without adding color to the trees. I goofed and used the potato resist on one of the trees. Tomorrow morning I will add a background piece and steam this. I can't wait to see the result. This is the way I love to work!! No more fancy stencil cutting for me!!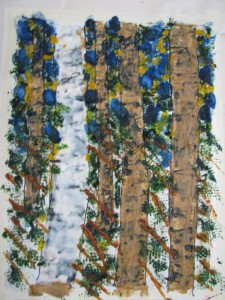 Here are the pomegranates after steaming and washing. The first set are on silk noil.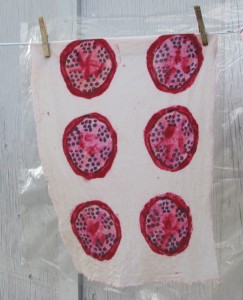 These two panels were done together with organza on top and habotai underneath. I love how they look hanging together.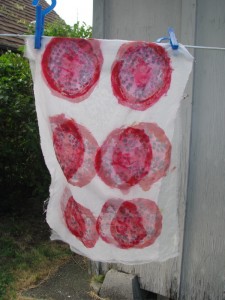 After class, we all went out for dinner at the new Thai restaurant. We had a great time and too much food.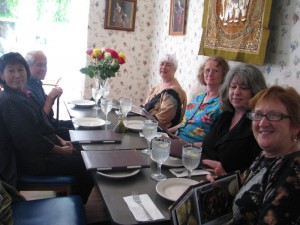 We then walked to the home of Lisa who works for the Art Center, for dessert. Here is Akemi with camera in hand.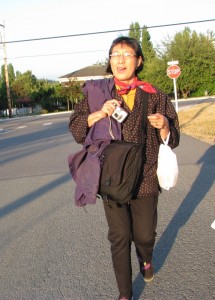 Here she is again, in Lisa's beautiful garden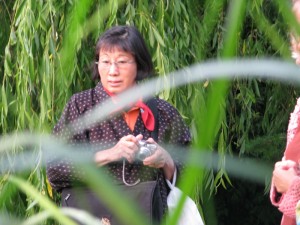 Oops! I forgot to post this. Here is the community stamping piece with a black background.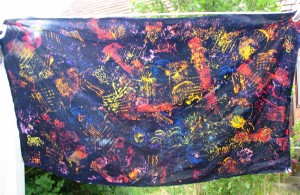 Boo hoo. Tomorrow is our last day. You can see all the photos that I took today on my Flickr Coupeville set.