Wednesdays are busy days for me so I always feel as if the day flies by and I haven't accomplished anything. I have my WW meeting in the morning. Every other week, Maryama comes to clean. During the summer, I go to  the  farmer's market in the afternoon. I have to fit in walking the dog for an hour, etc.
Today, at WWs, someone asked my name and then said, Oh, my gosh, I read your blog!!" So we chatted for awhile after the meeting. She is a quilter, too. Hi, Liz! I was happy because I lost a half a pound after my recent  gains. It makes a difference when you journal every day.
I finished Indigo Habitat except for a bead door knob. I will get it in the mail tomorrow.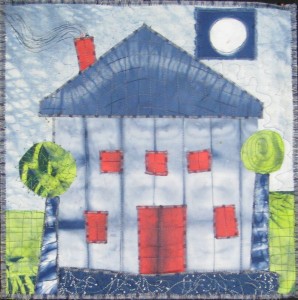 On Friday, I am leading a play day for High Fiber on soy was batik. So tomorrow, I have to get my supplies together and mentally prepare to herd cats – ha!! Jeannette Meyer, who teaches classes at Oregon College of Arts and Crafts, is coming so I have to be on my best behavior. Fortunately, I have Terry to help me.
This afternoon, I went to the Farmer's Market, and the skies opened up and down came the rain. It was rather hectic as every one tried to gather under the canopies to stay dry. I managed to gather up some great veggies and berries plus freshly caught halibut, which we had for dinner with sweet corn and a Caprese salad with the best tomatoes.