Well, I made it through Steve's 50th High School Reunion, barely. I didn't lose him to any old girlfriends, not that one didn't try! I had to take a nap every afternoon and sort of plodded through the festivities. His classmates think he is married to a very mellow, well-behaved woman — Ha!, little do they know. I finished the Z pack (antibiotic) yesterday, and I already have a call in to the Dr. I fear that it is coming back.
We had a wild ride from Indiana to O'Hare airport yesterday. It looked like this most of the time as we drove through the remnants of Hurricane Ike.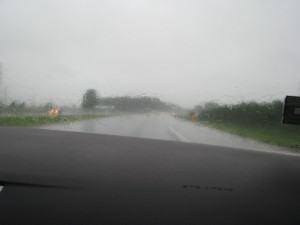 We had to leave one Interstate because a levee broke and there was flooding. The traffic jams were incredible, but the intrepid Mr C got us through the mess and safely at the airport where we discovered that our flight was delayed by an hour.
This is what Chicago looked like as we drove through: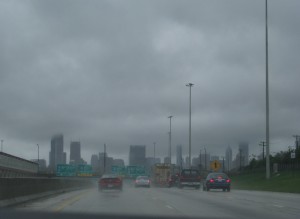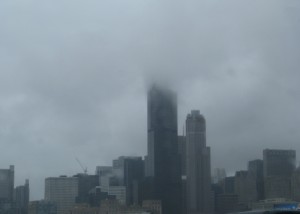 I found some good news when I arrived home. My Indigo Construction was accepted into Quilts=Art=Quilts, opening on November 1 at the Schweinfurth in Auburn, NY. I am very excited about this. The jurors were Cynthia Corbin (whose work I adore), Bruce Hoffman (director of Snyderman-Works Galleries in Philadelphia) and Denyse Schmidt (who has make a splash in the commercial quilt world, with her contemporary bed quilts).You can see the quilt on my website by clicking on Abstract/Geometric work, above.
Here are a few more fun photos from Millenium Park. I really would loved to have spent more time in Chicago.
Kids young and old enjoyed wading in the Crown Fountain pool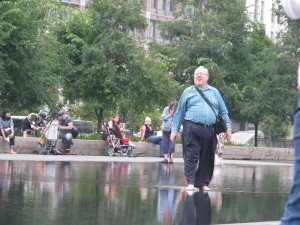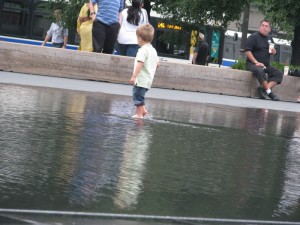 Some sculpture: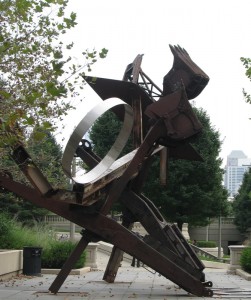 I would like to hang some fabric on here to rust!!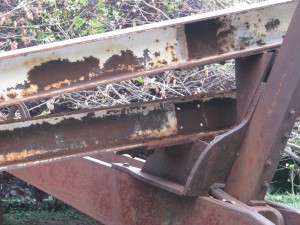 I have more exciting news, but that will wait until tomorrow.