Today, instead of cleaning up my messy studio, I picked up my Indigo Construction quilt and some Perle cotton and a needle and went to work. I suddenly realized that I was happier than I have been in at least two weeks. The comfort of holding a quilt and making marks with needle and thread — it has become such a part of who I am. I felt relaxed and happy.
I am turning the quilt from a vertical orientation to horizontal for our Line Dancing show. I buried the dangling threads and am now doing some wonky stitching with Perle cotton.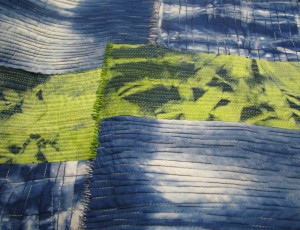 I didn't have any blue and white perle cotton so I used a Fabrico ink pen and white thread to get an indigo look.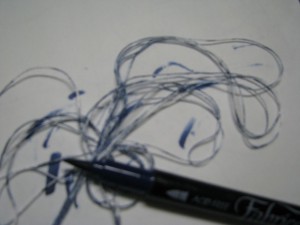 I am going to make a hanger with lime green bamboo. I need to get it done and photographed for the show CD.
I was notified today that the group of SAQA at 20 quilts that I am in is heading to Florida. It's first appearance will be at the Atlantic Center for the Arts hosted by the Focus on Fiber 09 Retreat at the Commons beginning March 25th in New Smyrna Beach Fl. On April 3rd it will be shown at The Florida Goldsmith Gallery on the First Friday in Tallahassee, Fl.
I took part in a Day of the Dead challenge on Quilt Art a few years ago. A museum in Scranton, PA has asked some of us to show our quilts this coming fall. Here is the piece that I did. It was honoring the women in my family who were an inspiration to me and my creativity: my mom, grandmother and two aunts.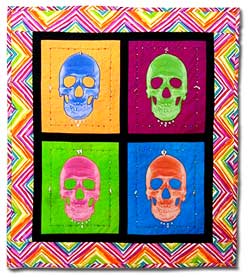 You know, my quilts are better traveled than I am!!
I just noticed that I am writing my 906th post. Sometime in the next few months, I will have my 1000th. I think I will have to have a celebration and some give-aways.