First, the ugly —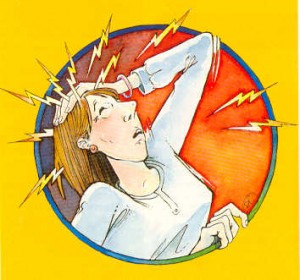 I have had a debilitating sinus headache since Sunday afternoon. I am on a course of Claritin, Sudafed, Aleve, saline rinses and Afrin nasal spray. Nothing makes much of a dent. I have been working away, trying to ignore it.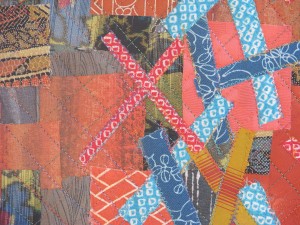 The bad — my quilt for the FAFC reverse auction is still waiting for a new owner. There are 7 beautiful pieces waiting for patrons to donate to the American Cancer Society to claim them. Click here for your chance!! Thursday you can get one for a real deal.
The good — I have finished my window  for the 12 X 12 challenge. It is not what I wanted to do. It is what I could do — all things considered.
This is what 20 plus yards of pfd fabric looks like after it has been torn into 2 yard pieces and scoured in the washing machine. I should have enough fabric to last for some time after the shibori class.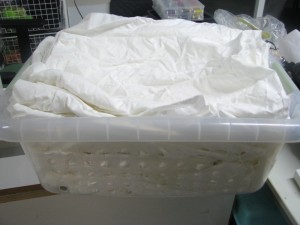 For some time, I have been thinking about going natural. Dyeing my hair is pricey and somewhat of a pain. With that decision, I have also decided to go quite short. Tomorrow, I am getting my hair cut short and so my gray is going to start showing. I can always change my mind, right?