Over, under, twist and turn. Where do I start? This class is so fabulous. Jan's work is incredible. She showed us a few pieces today and did a slide show.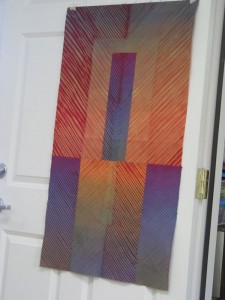 The circle is the leftovers from a series she just made for the Pittsburgh Children's Hospital. So gorgeous.
First thing this morning, I found out why I purchased a roll of rope from Home Depot. I only needed 4 feet!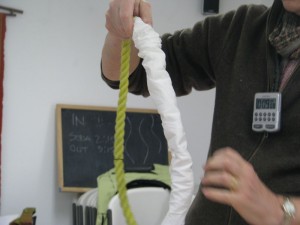 Jan demonstrates wrapping around the rope.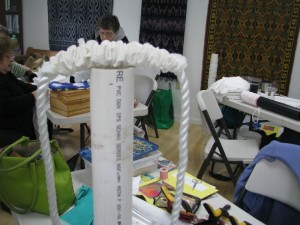 Here is mine, ready for the dye bath.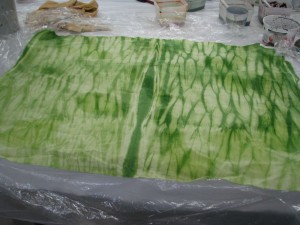 This one of my shiboris from yesterday. Today I painted a dye gradation over it.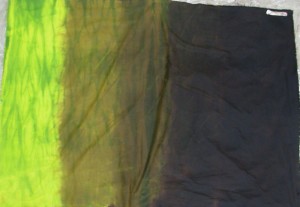 The next three pieces were in yesterday's post. I folded and clamped again to get a more complex surface on each.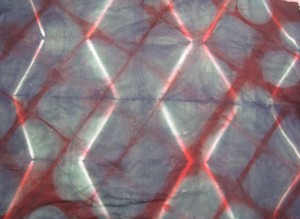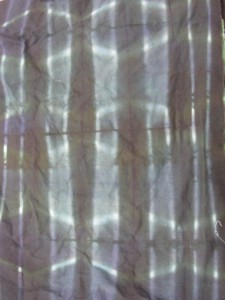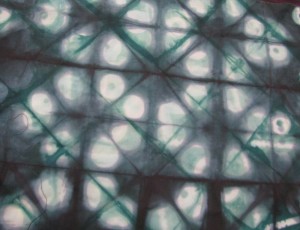 The next two pieces were experiments to see the difference between dye painting on dry fabric versus soda ash fabric.  I painted identical gradations. Then they were pole wrapped and dyed in the same dye bath. The top is the dry piece, which Jan prefers – me too. The second piece will be shibori discharged when I get home.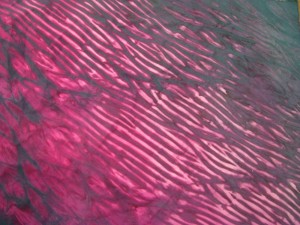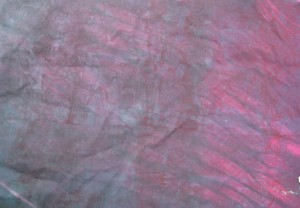 One very valuable thing I have learned in this class is the under and over painting of fabric before and after shibori dyeing. It adds depth and complexity to the surface. Here is my two fer. I have underpainted a gradation and put another piece of fabric on top and spritzed it to get a mottled surface. Yum. These will go on the poles tomorrow.
This was a teal shibori which I have overpainted in a gradation.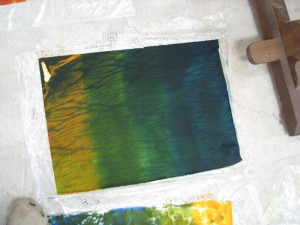 This is a pretty ugly peppermint looking red shibori on the organic cotton. I overpainted this, but don't have a photo.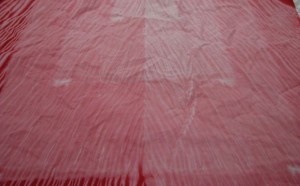 This is the rope shibori piece which creates a honeycomb effect.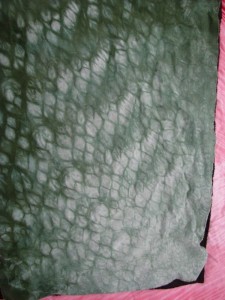 And here is the stitched piece dyed in black.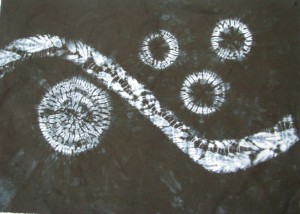 This piece was wrapped around several chopsticks with rubberbands and dyed in walnut brown. Tomorrow, it is going into a chartreuse dye bath.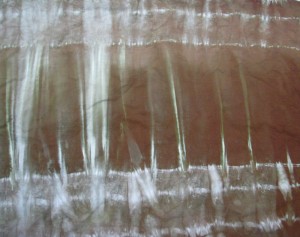 Here are a couple of photos of underpainting done by class members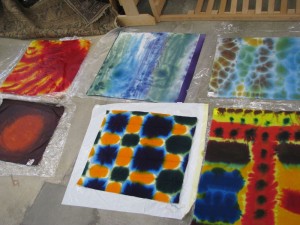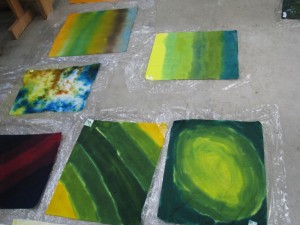 And here is a view of the very nice, state of the art, dye studio.
So, I had quite a workout today. It is not easy shoving that fabric down a pvc pipe several times a day — especially when you add string to it.